China condemns US media's spy story
( 2003-08-12 06:18) (China Daily)
Officials Monday condemned a number of US media claims that the nation had been engaged in espionage there, as attempts to "denigrate" China and play up the so-called "China threat."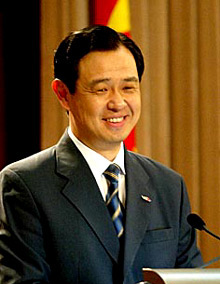 Chinese Foreign Ministry Spokesman Kong Quan. [file photo]
Foreign Ministry spokesman Kong Quan, in a response to a report carried by the Washington Times alleging that China sent spies to the US to steal sensitive intelligence, said it violates news ethnics and cannot win readers' trust.
A report written by Bill Gertz, which was published in the paper's August 5 edition, quoted a Pentagon report claiming that two Chinese students studying in the United States supplied China's military with US defence technology that allowed Beijing to produce a special metal used in sensors and weapons.
The Washington Times said that the alleged espionage, the subject of an ongoing investigation, allowed China's military to develop a version of the substance known as Terfenol-D, which cost the US Navy millions of dollars in research to create.
Kong said that Gertz is notorious for writing articles which attempt to "denigrate" China and play up the "China threat.''
Gertz said in his report that a FBI official said Chinese Government uses people who study advanced technology in the United States to infiltrate US companies to gain access to sensitive information and then return to China and set up their own companies or provide the information to the military.
China's embassy in Washington also refuted another report by the Associated Press as "totally groundless."
An AP report earlier this month said that the FBI believes China has more than 3,000 "front" companies in the United States whose real purpose is to direct espionage efforts. Some of the thousands of Chinese visitors, students and business people who go to the United States each year also have a government intelligence task to perform, it claimed.
Chinese Embassy spokesman Sun Weide indicated that by the end of last year, there were only 681 registered Chinese companies in the US.
"It is impossible that there are thousands of Chinese espionage companies," Sun told China Daily Monday in a telephone interview.
Sun said that there are always "a small number of people" in the US who cling to the Cold War mentality and harbour prejudice and hostility towards China, saying that their attempt is both deplorable and doomed to fail.
Sun indicated that the improvement of Sino-US relations conforms with the fundamental interests of the two countries and the two peoples.
"We hope those who have cooked up the so-called China Spy Case see clearly the trend of history and immediately stop their despicable acts of wantonly attacking China," Sun added.