Arab nations mull Iraq, Israel issues
( 2003-08-11 14:17) (Agencies)
The Egyptian, Saudi and Syria foreign ministers hastily called a meeting as Arabs faced pressure to act on the Iraqi and Israeli fronts.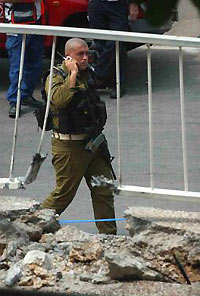 An Israeli soldier talks on his phone as he walks past chunks of concrete blown apart by a shell fired by Hezbollah from across the Lebanese border in the northern Israeli town of Shlomi, a few kilometers from the border, Aug. 10, 2003. Israeli security sources said three anti-tank shells were fired and exploded in the center of the town. A sixteen year old Israeli boy was killed. Hezbollah said in Lebanon that it had fired anti-aircraft shells at Israeli fighter jets flying over southern Lebanon. Four other Israelis were injured. [AP]

The previously unscheduled meeting in Cairo was arranged for Monday, a day after the Syrian-sponsored Hezbollah group shelled northern Israel, killing a 16-year-old and lightly wounding five other Israelis. The attack prompted a raid by Israeli warplanes on suspected Hezbollah positions in southern Lebanon.

The Hezbollah-Israeli skirmishes began Friday with the first exchange in eight months of artillery fire over a disputed area near the confluence of the Syrian, Lebanese and Israeli borders. Israeli officials have held Lebanon and Syria ¡ª which dominates Lebanese policy-making ¡ª responsible for Hezbollah's actions.

Syria's state-run Tishrin newspaper charged in an editorial Sunday that Israel was trying "to expand the circle of its aggression and deliberately provoke and threaten more than one Arab country," in hopes of slowing progress on the "road map" peace plan with the Palestinians.

Syrian Minister of Defense Mustafa Tlass, in a weekend interview with the London-based Asharq Al-Awsat, said Hezbollah was a "political movement that resisted the Zionist occupation in south Lebanon."

Hezbollah, which is on the US State Department's list of terrorist organizations, led a guerrilla war against Israel's 18-year occupation of a border zone in southern Lebanon that ended in May 2000.

Syrian Foreign Minister Farouk al-Sharaa was making a previously unscheduled trip to Cairo for the meeting with his Egyptian and Saudi counterparts that Egyptian Foreign Minister Ahmed Maher told reporters would focus on Israel and Iraq.

The Saudi foreign minister, Prince Saud, was already in Cairo with Saudi Crown Prince Abdullah, who met with Egyptian President Hosni Mubarak late into the evening Sunday to discuss the same two matters, as well as proposals aimed at reinvigorating an Arab League seen as divided and paralyzed by the Iraq crisis. The Saudi entourage came to Egypt from Syria on a regional tour.

Egypt, whose 1979 peace treaty with Israel was the first in the Arab world, has long been seen as a moderate mediator in the Arab-Israeli conflict. Saudi Arabia, the most influential Gulf state, emerged as another important moderate voice when it launched a peace initiative in 2002 offering Arab recognition of Israel in exchange for Arab lands occupied in 1967 and Israeli acknowledgment of the right of Palestinian refugees to return. The initiative later was adopted as official Arab League policy, but little progress on it has been made.

Syria takes a hard line on both Israel and Iraq.

Last week, the Arab League rejected recognition of a US-appointed Iraqi Governing Council, saying it would wait for the Iraqis to elect their government.

The US campaign for universal recognition for the Governing Council has gained endorsements from UN Secretary-General Kofi Annan and Russian Foreign Minister Igor Ivanov, and Assistant US Secretary of State William Burns was expected to raise the matter during a meeting scheduled with Mubarak in Cairo on Monday.

Abdullah flew to Cairo on Sunday afternoon from Damascus, where he had talks with Syrian President Bashar Assad. Syria, which currently holds the rotating presidency of the UN Security Council, is known to be reluctant to recognize the Governing Council, saying it needs to show it has the support of the Iraqi people.

The Arab world was deeply divided by the invasion of Iraq and its subsequent occupation by US and British forces. While a few Arab nations gave low-key support to the invasion, most opposed it.