London temps hit 100 for first time
( 2003-08-11 11:44) (Agencies)
Britain sweltered through its hottest day on record Sunday and Alpine glaciers melted as the heat wave that has baked much of Europe for days sizzled relentlessly on.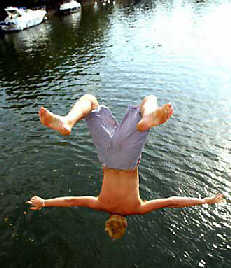 A member of the public jumps from a bridge into the River Thames to cool off as temperatures reach record levels near Windsor Castle, Berkshire on August 10, 2003. The record for the hottest day ever in Britain was broken as temperatures soared to 37.9 degrees Celsius (100.2 Fahrenheit). The record was registered at Heathrow airport, making it the hottest day since records began about 130 years ago in 1875. [Reuters]

The heat and drought-driven fires across the continent prompted Pope John Paul II to urge people to pray for rain.

"It is just miserable. You can't get any respite from it," said Londoner Ranald Davidson, squinting in the late afternoon sun as Britain surpassed 100 degrees for the first time.

The national weather service recorded a reading of 100.22 degrees at Heathrow Airport, outside a parched and baking London, and 100.58 degrees at Gravesend in southern England. Northern parts of the country were cooler, and torrential rain created problems in North Yorkshire.

Germans, too, have had record heat. In the Bavarian city of Roth, the temperature hit nearly 105 degrees Saturday. The previous record of 104 was also in Bavaria, set in 1983.

More than 40 deaths ¡ª including a 3-year-old French girl who died in a parked car on Sunday ¡ª have been blamed on temperatures that have hovered in the 100-degree range for days.

Pope John Paul II made his prayer appeal at the papal palace in lakeside Castel Gandolfo, which is generally cooler than Rome. Drought-fed fires have plagued Italy, the Iberian Peninsula, France and arid areas of other countries.

"I invite all to join in my prayers for the victims of this calamity, and I exhort all to raise to the Lord fervent entreaties so that He may grant the relief of rain to the thirsty Earth," John Paul told pilgrims and tourists.

In northeastern Italy, firefighters worked for a third day to put out a blaze in the countryside near Udine.

Three big fires burned in Portugal. The government asked Spain for two firefighting planes to help tackle a wildfire near Portimao, in the southern region of Algarve. About 145 firefighters, 45 vehicles, two helicopters and two planes were battling the flames.

In the French Alps, a police officer warned hikers about avalanches along a popular route on Mont Blanc. Glacial ice is melting, loosening rocks from the mountainside. On Saturday, helicopters evacuated 44 climbers in danger, police said.

Germany was expected to remain hot until midweek; France was counting on at least another week of abnormally high temperatures; and forecasters in Italy expect the country to be steamy through August.

Spain's National Meteorological Institute predicted temperatures above 107 degrees will continue throughout Spain for at least another week. Authorities in the Barcelona area have asked people not to visit national parks for picnics to avoid accidental fires.

In southern England, the unaccustomed stretch of very hot weather parched lawns in the capital and taxed tempers. The previous national record in Britain was 98.8 degrees, which was set Aug. 3, 1990.

Two Australian women looking for an air-conditioned pub in the Holborn area of London were fed up with the search for a cool place to sit.

"London is not built for these temperatures!" said Jenny Geddes, 29, of Newcastle, Australia.

"Where do you escape in London? There's nowhere to go sit and cool off," said Heather Irvine, of Ettalong, Australia, now living in London.

In Britain, many trains have had to reduce speeds because of the danger that heat will buckle tracks. The London Underground is so hot that signs have appeared at stations advising people to take bottled water with them and to let staff know if they are feeling unwell before they get on the train.

At Britain's beaches, people are often wrapped up in wool cardigans as they await the appearance of the sun, thousands of people bared nearly all on Sunday, soaking up the rays.

At the southern resort town of Bournemouth, the coastline was jammed.

"Our capacity on the seafront is about 100,000 and there is no spare sand here today," said senior seafront inspector Brian Cunnings. "Everybody has just squeezed in wherever they can."

In Paris, Sonia Tiba, 28, who works for the French administration, was strolling on the Champs-Elysees on Sunday and sipping an icy drink. She was dreading going back to work Monday in her office with no air conditioning.

"Tomorrow, we'll just have to take a deep breath and be brave. We don't have any choice," Tiba said.