Yan'an Pagoda develops lean
( 2003-08-11 10:32) (Agencies)
Yan'an Pagoda, the sacred symbol of the Chinese revolution, has developed a lean that has tilted it between 280-305 millimeters, said the local administrative office.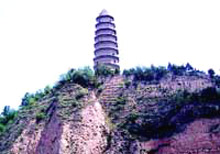 Standing on Mount Pagoda in the city of Yan'an City in Shaanxi Province, Yan'an Pagoda has a dangerous lean caused by frequent landslides in recent years, said Zhao Suijin, director of the administrative office.
The 44-meter-high pagoda, an eight-square and nine-story pavilion-like turret built in the Tang Dynasty (AD 618-907), is today a major historical and cultural site under national level protection.
The Mount Pagoda was a famous rural base of the Chinese revolution under the leadership of Mao Zedong in the 1930s and 1940s.
Three years ago, the Shaanxi provincial geological department realized the urgency of protecting the pagoda and drew up detailed plans. However, the project did not get started owing to a lack of money.
The project, including consolidating the mountain through piling and strengthening with concrete, has been approved by experts.
To complete the consolidation, 92 households are required to move out of the mount.
The local government of Yan'an is raising money for the project, which is expected to cost 90 million yuan (US$10.88 million), and plans to move residents later this month.
The project will take six months to finish once the funds have been raised.