Alarm system warns of space debris
( 2003-08-11 06:56) (China Daily)
Shenzhou V, due to become China's first manned spaceship when it is launched this autumn, will be fitted with an alarm system to avoid collisions in space, it was announced at the second National Space Debris Workshop held in Shanghai at the weekend.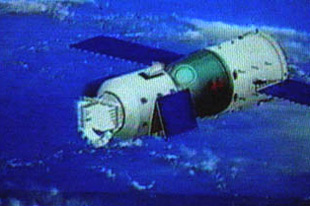 Spaceship Shenzhou II. [file photo]
The alarm system will keep the spacecraft away from the orbit of space debris by automatically changing its propulsion and speed, said Professor Du Heng, chief scientist at the Centre for Space Science and Applied Research under the Chinese Academy of Sciences.
To ensure the smooth launch and return of Shenzhou V, the centre is keeping a close watch over the 9,131 trackable pieces of space debris to screen those that are most likely to get in the way of the spaceship. They are making calculations to a high degree of accuracy and then putting forward suggestions as to how to avoid collisions.
Space experts at the weekend's workshop said an exact launch date has not yet been decided because so many factors are involved, such as the activities of the sun, the temperature, radiation, and the situation in the ionosphere .
Space debris means artificial objects or fragments cast off in the space, whether deliberately or unintentionally. With the development of the space industry, the amount of debris has been increasing and now poses a potential danger to spaceships, especially manned craft.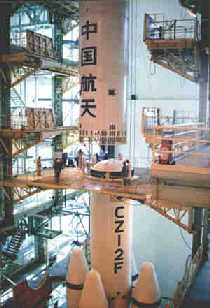 Launch vehicle for Shenzhou series spaceship. [file photo]
Since the former Soviet Union sent the first craft into space in 1957, over 26,000 objects have been sent into space by humankind.
Now there are 9,131 trackable pieces of debris in space, together with many smaller pieces, moving at great speed.
Li Benzhen -- an official with the Commission of Science, Technology and Industry for National Defence -- said: "The research into space debris that might fatally destroy manned spacecraft is greatly significant to China, even though it did not start until 2000 and is very much behind that in the United States and other countries.''
The commission has over 30 million yuan (US$3.63 million) in funding for the period between 2000 and 2005 to research how to minimize the effects of space debris and develop protection against it . It is working to improve observation methods, enhance studies into space debris environments and set up a data bank to help China's space exploration.
Li said China has put into operation an optical telescope with a diameter of 25 centimetres and will "soon'' launch one with a diameter of 65 centimetres.
The largest optical telescope in the United States has a diameter of 3.64 metres. China will continue to invest more in research into space debris to reach the international level, said Dong Yang, a deputy division director at the Ministry of Finance.