Inflation vs deflation: the debate continues
( 2003-08-07 11:53) (China Daily HK Edition)
As China's market economy continues to develop, there seem to be as many questions as answers about the nation's current state of financial health, the prognosis for the future, and how best to learn from other countries' experiences.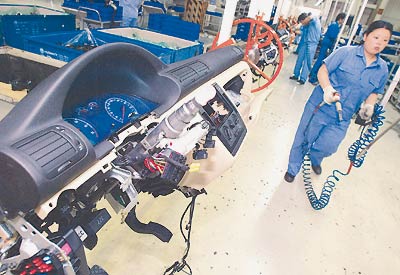 A woman worker at a production line in Shanghai Volkswagen Automotive Company. The growth in the automobile industry is cited by some economists as one of the symptoms of "economic overheating", while others say it is a normal phenomenon arising out of market demand and high investment returns. [Reuters]
Is the Chinese economy about to succumb to the rising flames of inflation or is it still frozen in a state of deflation?
Influential economists in China differ in their interpretations of the mild rise in consumer price indices (CPI) during the first half of this year, after 14 consecutive months of negative growth.
Ever since July 15, when US Federal Reserve Chairman Alan Greenspan commented that China needs to control its monetary supply to avoid inflation, more and more mainland analysts have added their voices to his.

Aside from CPI growth, they point to the sharp rise in bank loans, investment hikes and a shortage of raw materials in some sectors as portents of inflation and have appealed to the central government to cut budgetary spending and curb the monetary supply.

Others, however, say that the national economy has not completely left the shadows of deflation, arguing that the government must persist with its proactive fiscal policies and expansive monetary policies.

"A few days of warm weather in early spring does not necessarily herald the coming of summer," a Beijing-based economist said, adding that the most important task facing macroeconomic regulators is still the prevention of deflation.

A shopper walks past a boutique in Beijing. Different interpretations of the mild rise in CPI during the first half of this year have led economists to disagree on their evaluations of China's economic performance. [Reuters]


Signs and symptoms

Although the overall outlook of the national economy is good, some sectors and regions do report symptoms of "overheated" growth, said Hu Angang, a renowned economist with the China Academy of Social Sciences.

Redundant construction resurfaced in some industries, while small-scale coal mines, steel plants and cement factories consuming excessive amounts of energy or heavily polluting the environment have made a comeback. Many of these operations were previously forced to close during a strict period of rectification presided over by the central government during the last five to six years.

The prices of some key raw materials have risen significantly and half of the country now suffers constant electricity blackouts as a result of their reappearance .

Other economists have cited precipitous investment and money supply increases as contributing to the problem.

According to official statistics, overall national fixed assets investment hit 1.93 trillion yuan (US$233 billion) in the first half of this year, up an annualized 31.1 per cent, the highest growth rate in 10 years.

Meanwhile, outstanding M2, the broad money supply, stood at 20.5 trillion yuan (US$2.48 trillion) and M1, cash in circulation and corporate demand deposits, amounted to 7.6 trillion yuan (US$918 billion) at the end of June, up 20.8 per cent and 20.2 per cent, respectively, from the same period last year.

New bank loans grew by 1.9 trillion yuan (US$230 billion) in the first six months, almost equalling the total for the whole of last year, leading banking experts to predict that the loan growth will surpass 30 per cent this year.

If these symptoms of economic "overheating" are not curbed immediately, they might break the current macroeconomic stability achieved through years of painstaking efforts, Hu said.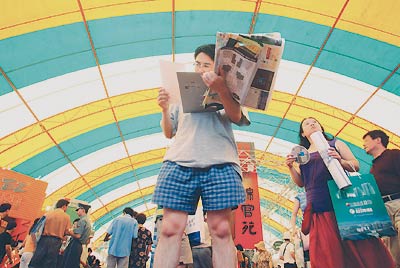 A man reads a pamphlet at a real-estate fair in Beijing. The central bank's recent move to tighten control on real-estate loans is considered helpful to reduce the overheating in the sector. [Reuters]



Fragile health

More economists, however, warn that the current proactive fiscal and monetary polices must be continued, lest China should quickly slide backwards into the deep pit of deflation.

Although no definitive international standard exists for measuring inflation, a rise of 2-3 per cent in a country's CPI is normally seen as mild. CPI growth of less than 1 per cent may actually indicate decreases in the prices of consumer goods due to statistical errors, according to the latest studies of the International Monetary Fund.

China's CPI was only 0.6 per cent for the first half of 2003, registering monthly percentages between January and June of 0.4, 0.2, 0.9, 1.0, 0.7 and 0.3, respectively.

Moreover, the mild CPI recovery during that period was fragile, supported mainly by price hikes in food, such as vegetables, and some services, including electricity, medical care and education fees. Even the normally higher prices of grains and aquatic products came down.

In addition, the CPI growth margins started to shrink starting in May, and the dipping trend seems likely to continue as general supply continues to surpass demand.

The macro-market situation, characterized by an overall production surplus versus sluggish consumption, is not going to make a U-turn in the near-term.

According to an official investigation, the domestic market was saddled with excess supplies in 513 of 600 major commodities during the January-June period. The rest maintained a supply-demand balance, with no major commodity in short supply.

The high 8.2 per cent GDP growth rate registered during the first six months cannot serve as a basic argument for possible inflation either, as it was mainly the result of increases of more than 30 per cent in both investments and exports.

Meanwhile, end consumption only managed single-digit rises, which stood at just 4.3 per cent in May.

If consumption is not invigorated in the remaining months of this year, the huge increase in investment will only flood the market with more supply.

The shrinking foreign trade surplus dropped from US$6.9 billion in the first half of 2002 to US$4.5 billion for the same period this year as a result of even higher import growth. This further adds to the pressure on domestic consumption to amend the missing driving force of exports to ensure high national economic growth.

Many analysts also argue that the worsening unemployment situation, low interest rates and the impact of a global deflation on China's economy, which is becoming increasingly integrated with that of the international community, mean inflation is not imminent.

A new period of negative CPI growth together with the possible appreciation of the renminbi, compelled by mounting international pressures, could steer China's fast moving economy into a trap similar to the one Japan strayed into in 1985. If that occurs, almost none of the existent monetary policies will work, warned an economist with the State Council Development and Research Centre, who declined to be named.

Too hot, or not?
In an effort to clarify the situation, Yao Jingyuan, chief economist and spokesman of the National Bureau of Statistics, said three indicators should be taken into account in determining whether or not the national economy is overheated: consumption, business profits and national fiscal revenues.

"None of the three indicators suggests that the national economy is overheated," Yao concluded.

In the first half of this year, China's fiscal revenues hit 1.1 trillion yuan (US$133 billion), up 27.4 per cent, while the growth rate was 18.2 percentage points higher than that for the same period last year.

Industrial enterprises, which contributed 5.8 per cent of the 8.2 per cent GDP growth, recorded a balanced profit of 292 billion yuan (US$35.25 billion) in the first five months, a sharp annualized increase of 62.8 per cent, while their sales-production ratio reached 97.15 per cent, up an annualized 0.08 per cent.

According to Zhang Liqun, a senior researcher with the State Council Development and Research Centre, potential consumption demand can serve as another indicator of whether the economy is about to boil over.

The new round of increased prices for consumer goods and services, involving education, health, entertainment and travel, is expected to last a long time.

For instance, fewer than 1 per cent of China's urban families own cars, compared with 80 per cent in many developed countries, while the per capita living space in Chinese cities of about 14.7 square metres of floor space lags far behind the 30 square metres in major metropolises in the industrialized world.

Commenting on development trends in the housing and automobile sectors, the fast growth of which have been cited by many other economists as symptoms of "economic overheating", Yao said the supposed runaway growth in both industries is based on market demand and high investment returns.

For instance, the investment returns for the automobile industry in developed countries is only 2 to 5 per cent, but the average rate for the sector in China was as high as 28.45 per cent last year.

This explains why many regions in the country are setting up new auto-manufacturing facilities, backed by sales growth of more than 50 per cent since last year.

Yao said increasing competition would naturally lead to cuts in production costs, then profit rates, and eventually the re-organization of the whole industry.

The real estate sector, he added, is expected to be the important long-term driving force behind national economic growth, and soaring home sales are not supporting the "overheating" claims.

In June, new construction of housing projects increased by 27.9 per cent, but sales jumped by 36.4 per cent. Among those projects, figures for commercial housing rose by 28.1 and 36.4 per cent, respectively.

Such a sales growth rate is rare elsewhere in the world, Yao said, pointing out that the investment-profit rate is two to three times higher than international levels.

He also noted that macro-adjustment policies were already in place in the sector to encourage developers to build housing the general public can afford and curb construction of expensive, luxury properties.

Prescription for change

The latest round of high economic growth in China is strongly supported by upgraded consumption trends marked by surging housing and automobile sales, the accelerated speed of urbanization, a thriving private economy, abundant capital from domestic bank savings and foreign investment, and a ready supply of new domestic and foreign manufacturing technologies, said Zhang.

Yao, however, enumerated three major problems China must remedy.

n First, economic quality must be addressed. High economic growth will not last long without improvements to industrial efficiency. The unchecked consumption of raw materials and energy sources must be amended through technological upgrades.

For instance, China still needs to import large quantities of high-quality steel products, even though national steel production surpassed the combined output of Japan and the United States last year.

n Second, structural imbalance needs attention. Service sectors only contributed to 33.7 per cent of the nation's economy last year, far behind the levels of developed countries.

If the ratio can be brought up to 50-60 per cent, unemployment pressures will abate.

China's unemployment rate is expected to reach 4.4 per cent this year, with another 400,000 people likely to become jobless between July and December.

n Third, the swelling wealth disparity must be reduced. Despite the central government's best efforts, China's vast western regions are lagging further behind the coastal areas than ever before, while the wealth gap between urban and rural residents also continues to widen.

At the end of last year, there were 120 television sets, 87.4 refrigerators and 92.9 washing machines for every 100 urban families, while the same figures for rural families were 60.5 per cent, 14.8 per cent and 31.8 per cent, respectively.

Farmers' incomes must be improved, as their purchasing power is vital to long-term national economic development.

Nonetheless, all of these issues should be dealt with carefully.

There is no need for the government to step on the brake or the accelerator to alter the pace of economic development, Yao said.

"The government is like a driver, and its macroeconomic adjustments are similar to a car speeding up, slowing down or turning," he said. "A skillful driver never jolts his passengers with abrupt stops or sharp turns."
Go to Another Section
Article Tools