Air travel recovers from SARS
( 2003-08-07 07:35) (China Daily)
Passenger flow in most domestic airports has recovered or is close to full recovery from the effects of the SARS epidemic, sources with the civil aviation regulator said.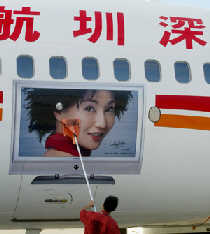 A worker cleans a Shenzhen Airline's passenger plane. [newsphoto.com.cn]
Most airlines have resumed operation of major air routes interrupted by the outbreak of SARS (severe acute respiratory syndrome), and some air routes linking booming business and tourist cities are seeing seat-bookings of over 90 per cent.
"The trend is expected to continue until the end of the summer season because of summer holidays and ticket discounts,'' said one official with the General Administration of Civil Aviation of China yesterday. He refused to be identified.
Though he admitted a deficit in the civil aviation industry in the first half of the year due to SARS was unavoidable, but said that the fast market recovery will very likely reduce the level of losses.
Beijing Capital International Airport is reporting continuous peak passenger flow for late July and this month, with total take-off and landing numbers reaching 720 a day, just 9 flights less than its old record of 729 flights.
Sources with the airport said daily flight numbers had recovered from 130 in May to 500 or so in late June and over 700 this month.
He said most international airlines are expected to reach their normal weekly flights levels late this month or in September, and that passenger flow in the airport is expected to remain high until the conclusion of the seven-day National Day holiday October 1 to 7.
China's commercial hub Shanghai also reported a robust business growth.
On Tuesday, the inbound and outbound flights at Shanghai's Pudong and Hongqiao international airports reached a total number of 714, handling 73,900 passengers. Both airports hit their highest flight levels for this year, according to the Shanghai Airport Authority.
"The recovery is unexpectedly rapid,'' said Wang Guangdi, chief director of the Operation and Command Centre under the authority, yesterday at a working conference.
According to Wang, the city's two civil airports reported only around 280 flights and 1,100 passengers a day in mid-May due to the outbreak of SARS.
But the situation began to reverse in late June and flights in and out of the two airports per day reached more than 12,600 in July, up 6 per cent over the same period last year, though total passenger volume for the month remained slightly less than the July figure for last year, according to official statistics.
"We expect the total number of flights for this year will still be 4 per cent over the figure for 2002, with passenger numbers close to last year's level,'' said Wang at yesterday's working conference.
Wang predicted that overall flights to Shanghai will continue to recover in the following months, as business traveller figures have already exceeded pre-SARS levels.
In Guangzhou, capital of South China's Guangdong Province, Guangzhou Baiyun International Airport resumed its international flights to Singapore, Malaysia, Thailand, the Philippines and other Southeast Asian nations and regions early this month, said an airport official yesterday.
And the airport's flow of international passengers for July has reached 80 per cent of the figure for the corresponding month of the previous year.
FLIGHT: Int'l service takes off again
Guangzhou Baiyun International Airport had to cancel some international service to Southeast Asian countries and regions because of the outbreak of SARS beginning in April, the official said.
The official predicted his airport's international service would return to normal operation and handle even more international passengers this month.
Currently, the Guangzhou airport is operating 22 international flights to 20 foreign metropolises.
And nine foreign airlines have resumed their international flights to the airport.
Air France signed a contract in June to officially operate an international flight between Guangzhou and Paris starting January 1, 2004.
Baiyun Airport, one of the three busiest airports in China, handled more than 586,000 domestic passengers last month.
The number of domestic passengers landing at and taking off from the airport in July equalled the figure for the corresponding month of 2002.
A total of 5,377 passenger planes took off or landed at the airport last month.