Chinese First Euthanasia defendant dies
( 2003-08-06 14:11) (Agencies)
Wang Mingcheng, a resident of Hanzhong in Northwest China's Shaanxi Province and also the first person in China to be prosecuted for practicing euthanasia on his mother, died in great agony Sunday in West China's Shaanxi Province, Chinese media reported.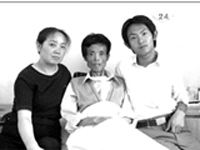 Wang Mingcheng(the middle one)is in hospital accompanied by his wife and son.

Wang has been suffering from cancer since November 2000.

"Wang was diagnosed with stomach cancer in November 2000 and then underwent an operation to remove three-quarters of his stomach in our hospital. Wang also suffers from heart disease, hepatitis B, asthma and a heart condition, which make Wang very weak," said Liu Xiansheng, a doctor at a hospital where Wang is staying in Xi'an, the capital of Shaanxi Province.

In November 2002, Wang was diagnosed to be also suffering from liver cancer from which he does not think he will recover. On February 4, he asked the hospital to carry out euthanasia for him, but was refused because this practice remains illegal, the doctor said.

In an interview with a Chinese newspaper journalist July 30, Wang said he was very sorry he had been unable to get euthanasia. Tortured by the disease, he had been reduced to little more than a skeleton at the time. "I cannot bear the suffering and want to die in the same way as my mother," Wang said with a weak voice from his hospital bed.

Wang's demand for euthanasia is all the more significant as he was the main person in an euthanasia case which was the first in China some 17 years ago.

In early 1986, Xia Suwen, Wang's mother, who suffered from cirrhosis of the liver, was sent to hospital and her condition failed to improve after various medical treatments. On June 25, Wang asked the doctor to carry euthanasia on his mother in order to stop her suffering, but the doctor refused.

"I consulted many doctors for many times asking if my mother could recover, but they said there was no hope. And I could not bear to see my mother's suffering from the disease," Wang recalled.

Wang and his sister then urged Pu Liansheng, the doctor in charge of his mother to carry out euthanasia to their mother, and later the doctor agreed.

Xia Suwen passed away after receiving an injection of wintermin on June 29, 1986 in the hospital, becoming the first case of euthanasia in China.

After Xia's death, Wang and Pu were later arrested and prosecuted for intentional homicide. Six years later, they were found not guilty on April 6, 1991.

Wang Honglin, a legal expert who worked on Pu and Wang's case, said that euthanasia is good for patients who have no hope of recovery and endure great suffering. He appealed for euthanasia to be legalized in order to limit any further suffering.

Wang died in the early hours of last Sunday.