Standard bearers of new technology
( 2003-08-06 11:04) (China Daily)
Although Kenji Hidaka has been working on the protection of intellectual property rights (IPR) for many years and seen many disputes, he expresses his experiences in just one word: Horrible.
| | |
| --- | --- |
| | A man chats on his mobile phone in front of a digital-camera advertisement in Shanghai. As they expand abroad, China's electronic producers would face more disputes in intellectual property rights from foreign companies. |
The heavy toll on Japanese companies fighting their American counterparts left a bad taste, he told China Daily in an interview.
Hidaka, director of intellectual property rights at Japan External Trade Organization's (JETRO) Beijing Office, said almost every major Japanese company was troubled by IPR issues during the development stage, especially in the 1980s.
In 1982, Fujitsu, the-then biggest computer vendor in Japanese market, was accused by US giant IBM of copyright infringements of its operating system software and user manuals.
In the next six years, Fujitsu fought very hard, but still ended up paying US$833 million for using IBM software.
The Japanese firms learned quickly and became keen enthusiasts in applying for patents.
Six of the top 10 patent owners in the United States last year were Japanese firms; and Japanese electronic giant NEC ranked second only after IBM.
Hidaka warned that Chinese businesses - as they pose more threats to foreign counterparts - would be involved in more disputes with IPRs increasingly used as a weapon.
The Chinese Government, research institutions and businesses have also realized the problem and have embarked on an arduous but optimistic journey to formulate China's own standards and secure more patents.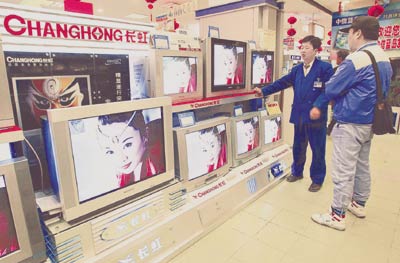 China's home-made standard for digital television is expected to be ready within this year.
Tide of standard
The most recent effort is to establish China's own audio and video standard (AVS).
Huang Tiejun, secretary-general of the AVS working Group, said last month that his team would submit an industrial standard this year, which may become the national standard in 2004.
He added that the first chip based on the AVS standard will also be out by the year-end, which would enable large-scale production next year.
The AVS standard will mainly be used in audio and video content coding and compression to make it easier for transmission and storage.
Devices like digital television (DTV) sets, multimedia mobile phones and DVD players and discs require such technology. The most popular international standard is currently MPEG2 (moving pictures expert group).
Gao Wen, chairman of the AVS working group, said that the scheme would be based on public technologies and Chinese inventions, so that it would be free from patent claims or royalty demands from foreign organizations; and revealed that his team had registered 58 patents in the field.
Meanwhile, with the start of trial broadcasting of DTV programmes in 30 Chinese cities and Jiangxi, Fujian and Shaanxi provinces in July, the establishment of home-grown digital television standards has become a focal point.
The ownership of home-made standards is regarded as critical for the development of DTV broadcasting, since broadcasting equipment, transmission devices and receivers depend on the standards.
China last year settled on the standard for satellite transmission, but is still working on cable and terrestrial standards.
Wang Kuang, general manager of Hangzhou Science and Technology Co Ltd and head of the development team for the DTV-cable standard, said in an interview last month that the domestic standard would be ready within this year; and have interactive functions, better support for data service and easier use compared with the European DVB-C standard.
Two teams from Beijing-based Tsinghua University and Shanghai Jiaotong University are working on a terrestrial broadcasting standard, which is also expected to be announced by the end of this year, according to Bai Weimin, chief of the broadcasting and television division at the Ministry of Information Industry (MII).
China is also trying to put its home-made third generation (3G) mobile communication standard TD-SCDMA (time division synchronous code division multiple access) into operation, which has been accepted by the International Telecommunications Union (ITU) as one of the three international 3G standards together with European-dominated wideband CDMA (WCDMA) and US-led CDMA 2000.
Standards on digital cameras, network collaboration, flat-panel display and other information technologies and products are also being decided.
MII is expected to hold a flat-panel display seminar in Beijing tomorrow to discuss the latest developments in setting up the Chinese standards.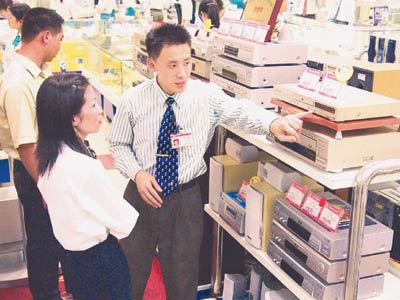 The heavy toll China's DVD player makers pay to foreign intellectual property holders taught many domestic producers the importance of domestic standards and patents. [newsphoto.com.cn]
Royalty payments
The royalties charged by foreign information giants on Chinese DVD player makers last year taught a lesson to domestic firms on the importance of owning their own patents and standards.
Last year, Chinese DVD manufacturers reached agreements with the so-called 6C patent licensing alliance - Hitachi, Matsushita, Toshiba, JVC, Mitsubishi and Time Warner - and the 3C alliance of Phillips, Sony and Pioneer to pay US$4 and US$5 respectively in royalties for every DVD player they export.
As Chinese companies extend to overseas markets, IPRs will become a tool that their foreign competitors will more frequently use to fend them off.
"As Japanese and Chinese companies compete strongly in manufacturing, I believe the patent issue will come more to the fore," said JETRO's Hidaka.
He said some Japanese digital camera makers had expressed their intention of charging royalties on Chinese manufacturers; and Japanese giant Sony and China's biggest computer maker Legend Group were talking about the issue.
Zhao Tianwu, director of the Service Centre of Electronic Intellectual Property at the Ministry of Information Industry and an IPR lawyer, pointed out that the primary goal of royalty claims from Japanese firms would be to stop Chinese makers venturing into overseas markets.
The establishment of industrial standards invented by the Chinese also represents the natural evolution of Chinese enterprises, business executives said.
Zhou Huan, president of Datang Telecom, the major driving force in developing the Chinese-invented 3G standard - TD-SCDMA - is an advocate of this theory.
"There is a rule in the industry: the third-class company sells products, the second-class sells technology, the first-class relies on its brand, but a super-class enterprise sells standards," Zhou said.
China is the largest maker of many IT and electronic products like television sets, DVD players and handsets, but the profits for manufacturers are meagre.
While China supplies 10 million DVD players to the world annually, most DVD makers make only about 100 yuan (US$12) profit per unit and also have to pay US$9 as royalty.
Legend Group, the biggest computer maker in the Asia-Pacific region, also feels the pain of the lack of core technologies.
The company united major TV set makers Konka, Hisense, TCL and Great Wall Computer Group to form the information gateway resource sharing (IGRS) working group in Beijing on July 16.
Sun Yuping, vice-president of the Legend Research Academy and chief of the IGRS working group, said that the aim is to develop an IGRS protocol, which enables automatic detection, automatic networking, and resource sharing and collaboration among IT devices, home appliances and communication devices in both wired and wireless modes.
The IGRS group has set a goal of formulating a draft of the standard in one year, launch development tools in the second year and come up with a comprehensive version in 2005.
At the same time, Legend Group is also a participant in the Digital Home Working Group (DHWG) established in June by 17 leading global companies including Sony, IBM, Intel, Nokia. DHWG also aims to achieve interoperability of electronic devices at home.
"If we do it now, we have a chance to win, but if we don't, we can only rely on foreign standards and will be controlled by them," said Wang Guixin, a spokesperson for Legend Group.
Another important factor in promoting home-grown standards is the huge economic interests following the establishment of standards.
Zhang Haitao, vice-minister of the State Administration of Film, Radio and Television, said last month that the DTV industry in China would create a huge market worth more than 1 trillion yuan (US$120 billion) including the upgrading of the current broadcasting systems and the spending on DTV sets: 500,000 jobs will be created just to provide DTV cable service.
DTV broadcasting, with its superior picture quality, large transmission capacity and exciting value-added services, is scheduled to cover the whole China by 2010 when the country will cease to use analog TV broadcasting.
Gao Wen, head of the AVS working group, also predicted that having a Chinese-invented AVS standard will save billions of dollars.
The royalty fee on every device using MPEG2 standard is US$2.50. It is estimated that Chinese consumers would buy 400 million units of DTV sets and DVD players in the next 10 years, which means US$1 billion in royalties. However, in the case of the AVS standard, the electronic device makers only need to pay about 1 yuan (US$0.12) per device and AVS members pay even less.
At the same time, China would also consume 300-500 million chips using MPEG2 technology, which would create a huge market worth US$300 billion.
No isolation
However, the enthusiasm to develop Chinese-invented standards and technologies does not mean that the Chinese people would isolate themselves from the world; they will actively seek to co-operate with international partners and integrate with the world's mainstream technologies, scientists and executives said.
Gao Wen with the AVS working group, revealed that although the standard his team is working on is based on open and self-invented technologies, Chinese researchers have contributed more than 20 proposals to the MPEG working group since 1997.