Commentary: New leaders spearhead new ideas
( 2003-08-05 09:48) (China Daily)
Though not long in office, the country's new leaders have won the public's trust with their courage and wisdom displayed under the threat of SARS, their sympathy and care for the disadvantaged, and their fine performances in international affairs.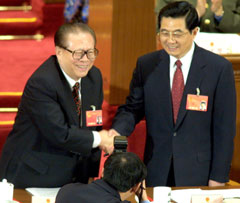 Former President Jiang Zemin (L) and President Hu Jintao

What distinguishes them, however, is their sincerity to introduce reason and democracy into decision-making.

At the State Council's first executive meeting presided over by Premier Wen Jiabao on March 19, two days after his election, a set of working codes for the cabinet were worked out. The priorities were on scientific and democratic decision-making, administration by law and enhancing supervision on government work.

The new administration should strive to make breakthroughs in the three aspects, Wen appealed to his colleagues.

Important decisions should be made collectively on the basis of thorough investigations, feasibility studies and soliciting opinions from all walks of life.

In making decisions concerning the nation's economic and social development, according to the premier, cross-departmental and cross-subject hearings should be conducted and the government should make better use of experts and research institutes.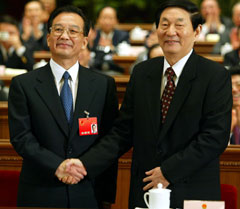 Former Premier Zhu Rongji (R) and Premier Wen Jiabao
Furthermore, an accountability system should be put in place. Those who violate the decision-making procedures and cause major losses should be held directly responsible for their mistakes.
The new cabinet, losing no time, sent a clear message that they are determined to make bigger strides in the direction of democracy, something their predecessors had discussed at length.
And they mean it. The new government has been acting faithfully in line with that very notion.
Premier Wen has displayed an impressive willingness to listen to the opinions of experts.
On April 9 and 10, he solicited opinions from economists on national economic development.
On April 11, Wen invited non-Communist party members and listened attentively to their thoughts on SARS prevention and the economic situation.
On June 17 and 24, he discussed with health and economic experts about how to achieve a balanced economic and social development, and how to improve the public health system.
Consultation with non-Communist parties, said Wen, is an important part of the government's scientific and democratic decision-making mechanism, and a guarantee for the success of the government's work.
At the meeting, Wen said that the government was about to periodically brief non-Communist parties on key issues, and such briefings should be set as a fixed procedure.
He encouraged them to supervise and not hesitate to criticize the government's work, and pledged smooth channels for opinion expression.
More than behaving in accordance with the procedure themselves, the central government, using every possible occasion, emphasized the vital importance of the mechanism and strived to cultivate that sense to decision-makers at various levels.
At a working conference on May 26 to map out strategies for sustainable development of oil and gas, Wen told participants that strategies that will have dramatic impacts on the nation must undergo strict feasibility studies, widely solicit opinions, and use a democratic procedure.
He made similar remarks when speaking on the country's mid- and long-term strategies for science and technology.
There are plenty of signs of the new government's strong desire to break from outdated style and blaze new trails in democratization.
The appeal for mechanisms of scientific and democratic decision-making was given a heavy stroke in the political report of the 16th National Congress of the Communist Party of China (CPC), held in November last year.
"We will improve the mechanism by which decision-makers will go deep among the people and get to know how they are faring, reflect their will, pool their resources and value their wisdom, putting decision-making on a more scientific and democratic basis" and "prevent arbitrary decision-making," according to the report.
The new Political Bureau of the CPC Central Committee, which emerged at the Party's national congress, has thus far held five collective study sessions with economic, social, political and military experts to brief the Party's leading body on the latest developments in those fields.
Such frequent consultations were rare, if not unprecedented, at that level.
Exposure to new knowledge and conditions contributes greatly to avoid making decisions blindly and without context.
The national leadership's readiness to learn boosts our confidence in their talks about "political civilization."
The new leadership's embrace of a scientific and democratic decision-making system displays great vision. The value of such a system is unmeasurable in terms of how it helps to ensure that this colossal ship of a country remains on its proper course.
Their move is of special significance when considering the serious mistakes committed when one man's will dominated in decision-making. Scars left from such willful moves - the "great leap forward" in the 1950s and the "cultural revolution" during 1966-76 - have not been removed completely even today.
We cheer the initiatives by the new leadership. However rocky the road ahead may be in the promotion of such a system, we have embarked on the journey with a step in the right direction.