Tech strides advance for moon probe
( 2003-08-04 07:20) (China Daily)
China has made key technical breakthrough in its first moon exploration satellite programme which was launched in March this year, Xinhua News Agency reported Sunday.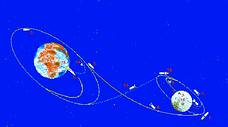 The route for the satellite's journey between the earth and the moon.
Ye Peijian from the China Academy for Space Technology who heads the research work reportedly said scientists had made advances in the design of the satellite's orbit, antenna, power supply, structure and temperature control.
Scientists have worked out the co-ordinates and route for the satellite's journey. They can also monitor and control its progress via a specially designed antenna, which transmits data back to earth.
The academy will support the programme to make sure the satellite can be launched as soon as possible, its president Yuan Jiajun said.
China's moon exploration programme is called "Project Chang'e'' by scientists, according to the China Central Television (CCTV).
According to an ancient Chinese myth, Chang'e was a beautiful woman who took a special potent that gave her the ability to fly. She flew to the moon and stayed there forever.
The first phase of the programme is to launch an exploration satellite to the moon, which will orbit it and examine its surface and geography.
The second phase is to launch a device to land on the moon and the third is to send a robot to the moon.
Experts predict it will take 20 years to complete the whole programme.
According to CCTV, a scientific research team for moon exploration has been set up under the China National Space Administration.
The team includes experts from many space research organizations such as the Chinese Academy of Sciences.