China expresses sorrow for Russian bomb victims
( 2003-08-03 09:41) (Xinhua And Agencies)
Chinese Foreign Ministry spokesman Kong Quan Saturday expressed China's sorrow for the victims of the Russian bomb attack.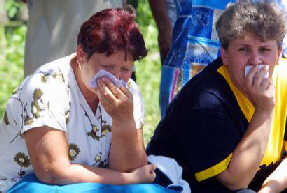 Women, no names given, react near what is left of the of a Russian military hospital destroyed by a suicide attack, in Mozdok in Russia's North Ossetia region, Saturday, August 2, 2003. [AP]

The spokesman said China was shocked by the terrorist attack Friday in the city of Mozdok in Russia's North Ossetia region, which caused huge casualties, and offered condolences to the victims' relatives.

He said the Chinese government firmly objected to terrorism in any form and supported the Russian government's crackdown on extreme terrorism.

China is willing to strengthen cooperation with the international society, including Russia, in order to reduce international terrorist acts.

Meanwhile, the death toll from the deadly blast in Russia's military blast has risen to 50.

Russian President Vladimir Putin called the bombing "yet another confirmation of the inhumanity and cruelty of the bandits who are trying to destabilize the situation in the Northern Caucasus" ¡ª the region that includes Chechnya.

"But the terrorists will not succeed in imposing their criminal will," Putin said in a condolence telegram. "Their bloody evildoing will not stop the process of political settlement and the restoration of normal peaceful life."

Putin has refused to negotiate with rebels and has taken steps the Kremlin says are designed to bring peace to Chechnya, including a March constitutional referendum that cemented its status as part of Russia, an amnesty offered to some rebels who surrender and a regional presidential election scheduled for Oct. 5.

Friday night's attack in Mozdok, headquarters for Russian forces fighting in neighboring Chechnya, was the latest of several suicide bombings that have killed more than 100 people since May.

Chechen law enforcement agencies were put on high alert Saturday and 24-hour patrols were ordered for hospitals, oil and energy facilities and other major buildings in the province, according to the ITAR-Tass news agency.

Defense Minister Sergei Ivanov broke off his summer vacation and traveled to the site of the blast at the request of Putin.

Ivanov lashed out at military commanders, saying that despite orders, there was no security system that required vehicles to stop before entering the hospital grounds.

The chief of the Mozdok military garrison was suspended pending an investigation, Ivanov said. Interfax also reported that military prosecutors detained the head of the hospital on suspicion of criminal negligence and failure to carry out an order.

In Friday night's incident, an attacker rammed a truck packed with explosives through the gates of the four-story brick hospital in the North Ossetia region city of Mozdok, razing the building, where dozens of soldiers were recovering from wounds they suffered fighting in Chechnya, authorities said.

Televised footage showed a layer of tangled, jumbled rubble at the hospital, with only parts of a rear and side wall and skeletal interior structures still standing.

"Suddenly there was an explosion, and smoke everywhere," a bandaged victim told NTV television from his hospital bed. "I remember as I was running out, the cries of 'Help! Help!'"

With the discovery of the nurse's body and at least four others overnight, the death toll rose to 50, said Lt. Col. Yuri Miroshnichenko, spokesman for the Emergency Situations Ministry in southern Russia. Sixty-four injured remained hospitalized, he said.

Rescuers called off the search operation Sunday for victims and said hope had disappeared of finding any survivors in the rubble.

Deputy Prosecutor General Sergei Fridinsky said authorities suspected Chechen militants were responsible for Friday's attack, noting that soldiers who fought in Chechnya were being treated at the hospital.

"We are inclined to view this crime as an act of revenge," he said on NTV. He later said authorities were seeking specific suspects, the Interfax news agency reported.

The attack echoed two deadly truck-bombings in Chechnya in the past year, but Ivanov reached back further and said the explosives used were the same as those employed in a string of apartment-building blasts four years ago.

Ivanov said the explosive device had the power of more than a ton of TNT and was made of ammonium nitrate, which he said was "analogous to that which was used" in three 1999 bombings in Moscow and the city of Volgodonsk.

The 1999 bombings killed about 300 people and were among the chief reasons that Russian forces returned that fall.

In June, a female suicide attacker detonated a bomb near a bus carrying soldiers and civilians to work at a military airfield near Mozdok, killing at least 16 people.

In May in Chechnya, a truck-bomb attack killed 60 people and a woman blew herself up at a religious ceremony, killing at least 18. Last month, a double suicide bombing at a rock concert in Moscow killed 15 bystanders.

Russian forces, who took control of most of Chechnya three years ago, still suffer daily guerrilla attacks and human rights groups have criticized their tactics.