Russian hospital blast kills at least 33
( 2003-08-02 08:20) (Agencies)
A suicide bomber rammed a truck packed with explosives through the gates of a Russian military hospital near Chechnya on Friday, destroying the building and killing at least 33 people.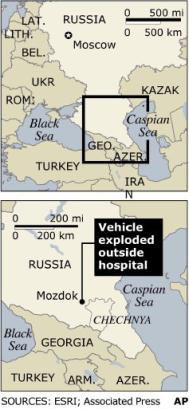 Seventy-six others were wounded in the attack, the latest in an upsurge of suicide bombings that have killed more than 100 people since May.
Russian authorities suspected Chechnya's separatist rebels in the blast, which demolished the four-story red brick hospital in the city of Mozdok in Russia's North Ossetia region.
At least 33 people were killed, said Yevgeny Volodchinkov, an Emergency Situations Ministry official at the scene.
The region's Emergency Situations Minister Boris Dzgoyev told The Associated Press that at least 76 were injured, including personnel at the hospital and soldiers taken there after being wounded in Chechnya, where Russia's second war against rebels in a decade is nearly four years old.
Russian Deputy Prosecutor General Sergei Fridinsky said 35 were killed and 150 injured, according to the Interfax news agency.
The building, which had 115 people inside, including medical workers and patients, collapsed like a house of cards, Dzgoyev said.
Maj. Gen. Nikolai Lityuk said the Russian-made Kamaz truck broke through the hospital gates, pulled up to a reception office building and exploded. The blast left a crater 26-feet wide and 10-feet deep, according to Lityuk, deputy chief of the southern Russia branch of the Ministry of Emergency Situations.
There was no immediate claim of responsibility, but Russian authorities said they suspected Chechen rebels. Lityuk said it appeared to have been carried out by a lone attacker in the truck.
"Near the checkpoint of the hospital there were charred corpses," a medical assistant from Mozdok's central hospital identified as Galina said on state-run Rossiya television. "Tents that were put up near the main building were all gone. There was one wall left from the main building."
"The United States condemns this act of terrorism," White House spokesman Scott McClellan said. "No cause whatsoever, be it national, ethnic, religious, or political, can justify terrorism."
A woman who lives 2 1/2 miles from the hospital said windows broke and plaster fell from walls in her neighborhood. "I saw a big column of smoke," said the woman, identified as Valentina, speaking on Ekho Moskvy radio.
Mozdok is the headquarters for Russian forces fighting in Chechnya and has been repeatedly targeted by attackers.
Emergency workers were picking through the rubble, and the Ministry of Emergency Situations was sending a plane with rescuers, sniffer dogs and medical equipment from Moscow, officials said.
A duty officer at the regional Emergency Situations Ministry in North Ossetia said 35 of the wounded were taken to Mozdok's central hospital and four others died on the way.
Alina Totykova, deputy head of the North Ossetian hospital in the regional capital, Vladikavkaz, said all available ambulances were sent to Mozdok. There was a shortage of medicine, anesthetics and bandages and a severe shortage of blood, she said, adding that an appeal for people to give blood would be broadcast on television in the region.
President Vladimir Putin expressed condolences to relatives of the victims and urged the North Ossetian leadership to tell federal authorities in Moscow what was needed to aid the victims, the Kremlin said. Putin also ordered law enforcement officials to investigate.
Chechnya has been wracked by violence since Russian forces entered the mostly Muslim region in 1994 in a bid to crush separatist rebels. Russian troops withdrew in 1996, leaving the separatists in charge, but returned in 1999 after Chechnya-based militants invaded a neighboring region. The Kremlin also blamed rebels for apartment-building bombings that killed 300 people in 1999.
Last month, Putin signed an order setting presidential elections in Chechnya for Oct. 5 - the latest step in his strategy of trying to bring a political resolution in the Caucasus republic even as fighting continues.
However, rebel attacks - which have increasingly involved suicide bombings targeting civilians - have undercut the Kremlin's effort to portray the situation in the war-shattered region as stabilizing.
In June, a female suicide attacker detonated a bomb near a bus carrying soldiers and civilians to work at a military airfield near Mozdok, killing at least 16 people.
In May, in Chechnya, a suicide truck-bombing killed 72 people and a woman blew herself up at a religious ceremony, killing at least 18 people.
A double suicide-bombing at a rock concert in Moscow on July 5 killed the female attackers and 15 other people.
In Chechnya on Friday, fighting raged for hours in the town of Argun and 19 Russian servicemen and Chechen police were killed in the region in the past 24 hours, an official in the Moscow-backed administration said.