Minister pledges stronger army
( 2003-08-01 07:08) (China Daily)
Defence Minister Cao Gangchuan Thursday vowed to build a stronger Chinese army through science and technology.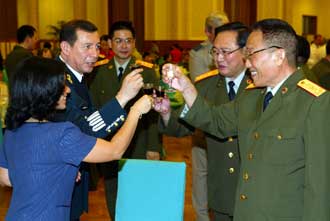 Defence Minister Cao Gangchuan (R) toasts Servando Centella Perez (L), military attache of Mexico Embassy in China, in a reception held yesterday by the Ministry of Defence to celebrate the 76th anniversary of the founding of the Chinese People's Liberation Army (PLA). [newsphtoto.com.cn]


He made the pledge while addressing a reception at the Great Hall of the People in Beijing, held on the eve of the 76th anniversary of the founding of the People's Liberation Army.

The reception was attended by more than 800 military leaders, government officials, veterans and military attaches of foreign embassies.

"We must build the armed forces on the basis of advanced science and technology, applying the latest research and development achievements in all fields of army building,'' Cao said.

He also called for improving education and training, stepping up defence research and equipment development, upgrading logistical support and raising the troops' capability for defence operations with advanced technology.

"We should work hard to make our talent strategy a success, and turn out a new type of high-caliber military professionals,'' said Cao.

He added that the PLA should support and actively participate in the country's economic development, playing the role of a "vibrant force'' in infrastructure and environmental development.

Cao said that it is the common aspiration of all Chinese people, including Taiwanese compatriots, to settle the Taiwan question and achieve the complete reunification of the motherland.

"We will continue to uphold the basic principles of 'peaceful reunification and one country, two systems' and the eight-point proposal put forward by Comrade Jiang Zemin on the development of cross-Straits relations and advancing the process of peaceful reunification at the present stage,'' Cao said.

He stressed that any attempt to separate Taiwan from the country is doomed to failure.

"We have the determination and capability to safeguard China's sovereignty and territorial integrity, and will brook no separation of Taiwan from the rest of the country by anyone or in any way,'' he added.