Peacekeeper advance team reaches Liberia
( 2003-07-31 10:39) (Agencies)
Momentum built to get West African peacekeepers into Liberia Thursday as the arrival of an advance team offered a spark of hope for weary Liberians struggling under bullets and bombs.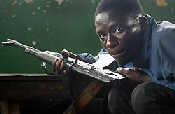 A government fighter crouches to avoid gunfire on the roof of a building next to the Mesurado 'old' bridge in Liberia's capital Monrovia Wednesday,where government and rebel forces exchanged small arms and mortar fire despite a proclaimed ceasefire. [AP]

For 13 days, President Charles Taylor's forces have been battling to get rebel Liberians United for Reconciliation and Democracy (LURD) out of the besieged capital Monrovia. The government says well over 1,000 people have been killed in the latest rebel attempt to topple Taylor.

The West African team arrived in Liberia Wednesday to prepare for the deployment for Nigerian peacekeepers to move in and keep apart the volatile fighters.

Three US warships are also sailing on the way to provide support for the force and possibly land troops in a country founded by freed American slaves more than 150 years ago.

"This could be a turning point," US Ambassador John Blaney told Reuters as the reconnaissance team arrived from Ghana.

In New York, the United States introduced a draft U.N. Security Council resolution to authorize a peacekeeping force, preparing for any future US and UN deployment in Liberia.

The resolution would give a UN mandate to the West African troops or those from other countries, such as the United States. It would also pave the way for a U.N. peacekeeping operation to take over in October.

The deployment would take place under Chapter 7 of the U.N. charter, allowing the use of force to bring fighting to an end.

LIBERIANS WANT QUICK DEPLOYMENT

Liberians have been expecting help for weeks and hopes had dimmed that the promised foreign troops would ever arrive.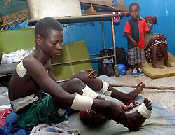 A Liberian man wounded in a mortar attack in Monrovia is treated in a clinic in the West Point Slum district near the front line, July 29, 2003.[Reuters]

Hundreds of thousands of refugees have swelled Monrovia's population to well over a million, scrabbling where they can for shelter and running short of food, clean water and medical supplies to treat rampaging disease.

Fighting has surged around three key bridges in the divided coastal capital for nearly two weeks, leaving front lines little changed as the death toll climbs. Scores of civilians have been felled by stray bullets and mortar bombs randomly fired by ill-trained fighters, including drugged-up children.

West African leaders are to meet for an emergency summit in Ghana Thursday to discuss the force.

Taylor, under pressure from President Bush, has promised to step down once peacekeepers arrive. The former warlord is accused of fanning more than a decade of regional crisis and is wanted for war crimes in Sierra Leone.

Taylor's fighters hold only a strip of land stretching back from Monrovia, with the rest of the country held by two rebel factions. Troops are struggling to regain control of the second city of Buchanan, which fell to rebels Monday.