Dolphin from Solomon Islands dies in Mexico
( 2003-07-30 10:31) (Agencies)
One of the more than two dozen dolphins imported this month from the Solomon Islands to a Cancun aquatic park has died, Mexico's federal environmental agency said Tuesday.
The dolphins' journey half way around the globe by plane sparked an international debate about the growing entertainment industry surrounding the animals.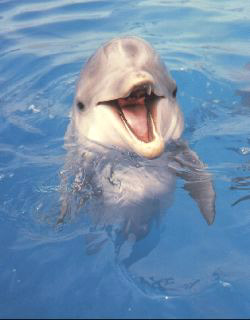 Animal welfare activists and the Australian government asked Mexico to block the arrival of the dolphin shipment from the south Pacific islands, but officials from the Mexican environmental protection agency said the privately operated Parque Nizuc had met all legal requirements.
Parque Nizuc veterinarian David Berron notified authorities that a dolphin died at about 8 am Monday, according to a news release from Mexico's environmental prosecutor's office.
Contacted by phone Tuesday, Berron denied that any dolphins had died at the park and referred questions to a public relations office, where calls were not answered.
Prior to Tuesday, the Mexican government repeatedly had denied accusations by animal welfare activists that some of the relocated dolphins had died.
But environment department spokesman Jaime Alejo confirmed Tuesday that federal authorities were aware of the death Monday of a dolphin at Parque Nizuc. He said federal environmental prosecutors would be responsible for finding out the circumstances and cause of the death.
Sara Rincon of the World Society for the Protection of Animals said the death raised the prospect that other dolphins at the park may be sick and that open-water corrals could endangering local sea life.
``If this animal died of a disease, what can happen with the other dolphins and with the marine life in the region,'' Rincon said.
Samples of the marine mammal's internal organs were taken immediately and delivered to two laboratories for analysis, according to Mexico's environmental prosecutor's office. The test results will be sent to environmental regulators, the news release said.
Most large water parks, including those in the United States, use only dolphins they breed in captivity. But the growing popularity of parks that allow tourists to swim with and touch dolphins have sparked a cottage industry of unregulated, beach-side attractions starring the marine mammals.
Parque Nizuc is one of several Cancun attractions that invite tourists to swim with dolphins held in captivity.
The park nearly tripled its original dolphin population of 15 with the shipment from the violence-wracked Solomon Islands, where international forces are trying to restore law and order.