Rules on way for renminbi trade in HK
( 2003-07-30 09:21) (China Daily HK Edition)
China's central bank is drafting rules to allow Hong Kong banks to conduct yuan-related business that could be completed in the next few months.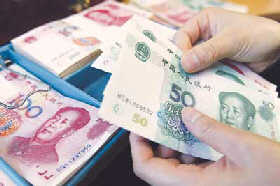 Hong Kong banks will be able to engage in yuan-related business such as deposits, remittance, exchange and credit-card services.
China Daily learned Tuesday of the headway being made in the drafting of the rules in an interview with Wang Lin, director of the Division of Taiwan, Hong Kong and Macao Affairs under the International Department of the People's Bank of China (PBOC).
She noted that monetary authorities from both the mainland and Hong Kong would have to hold intensive talks before putting the rules into practice.
The drafting process actually began more than one year ago and is in its second round of consultation among relevant government bodies, she disclosed.
The PBOC, Office of Hong Kong and Macao Affairs of the State Council, State Administration for Foreign Exchange and the Bureau of the Legislative Affairs under the State Council have joined in the drafting process.
Chief Executive Tung Chee-hwa announced last week that the central government is positively studying the possibility of turning Hong Kong into a centre for offshore renminbi business.
If implemented, these moves are expected to serve as a boon for Hong Kong banks and greatly boost the city's status as an international financial centre.
As for the final implementation of the proposed banking rules, Wang underscored the need to cautiously push ahead with the proposed arrangement while asking for patience from the Hong Kong side. "We do need enough time to carefully evaluate potential risks that may arise from the arrangement," she said.
It will be so complicated an issue that lots of technical problems during the process may bring unexpected risks. We have to try our best to minimize potential loopholes in the rules.?
The official stressed that the draft rules should manage to strike a good balance between benefiting Hong Kong's greatest interests and not undermining the mainland's interests.
Wang indicated that if the proposed banking arrangement is finally enacted, it is set to pose a great challenge to the country's monetary management.
For instance, a huge amount of cash flow and an increasing number of financial dealings in the yuan may help breed more money-laundering crimes.
Despite China's capital controls, as much as 50 billion yuan (US$6 billion) is thought to be circulating in Hong Kong.