Human-rights talk with Australia `fruitful'
( 2003-07-29 07:02) (China Daily)
The seventh annual Sino-Australian human-rights dialogue was held Monday in Beijing.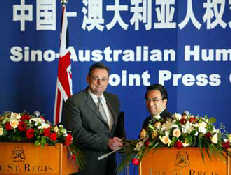 Assistant Foreign Minister Shen Guofang (R) and Deputy Secretary of the Australian Department of Foreign Affairs and Trade Geoff Raby pose before a press conference yesterday in Beijing. [newsphoto.com.cn]

"The dialogue was positive, constructive and fruitful,'' said Assistant Foreign Minister Shen Guofang, who led the Chinese delegation.

Geoff Raby, head of the Australian delegation and deputy secretary of Australia's Department of Foreign Affairs and Trade, said that the annual dialogue has reached a mature stage.

The two sides held "friendly and in-depth'' discussions on a series of issues of common interest, including women's and children's rights, the rights of ethnic minorities, judicial administration, civil and political rights as well as economic, social and cultural rights and co-operation with United Nations human-rights organizations, Shen told a joint press conference held after the dialogue.

The two sides approved the Human-Rights Joint Technical Co-operation Programme for 2003-04 and pledged to continue human-rights technical co-operation on the basis of equality and mutual respect.

The Australian delegation will visit Lhasa, capital of Southwest China's Tibet Autonomous Region, later this week to see the human-rights situation there.

The dialogue mechanism was established in 1997 to strengthen mutual understanding, discuss human-rights issues and identify practical means of co-operation.

Australia was the first country to establish a human-rights dialogue system with China.