South China tigers proposed for Olympic mascot
( 2003-07-27 10:47) (Xinhua)
South China tiger, an endangered species native to the southern part of China, has been proposed as a mascot for the 2008 Beijing Olympic Games, sources said Sunday.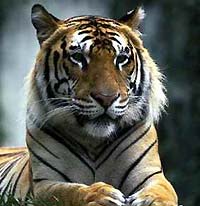 Forestry and agriculture officials in Suzhou, a scenic city in Jiangsu Province, one of two main areas where the tigers still survive, are actively campaigning for the tiger.
Huang Gongqing, who is in charge of the Suzhou South China Tiger Propagation Center, said South China tigers, which are unique to China, fully embody the bravery, enterprise and wisdom of the Chinese people.
In Longyan City, the home of another major south China tigers breeding center, the Meihuashan South China Tiger Propagation and Wildlife Adaptation Research Center, officials also support the application.
Zhang Xiefei, Party secretary of Longyan City, said the local government would render active support to the campaign.
He said that using south China tigers as an Olympic mascot would enhance China's reputation in protecting endangered species and the environment.
The proposal has been supported by foreign non-governmental organizations too.
Quan Li with the International Federation for Salvage of Chinese Tigers said she supported releasing tigers into the wild but hoped the Olympic Games in 2008 would use Chinese tigers as a mascot to promote Chinese culture overseas.
There are fewer than 100 south China tigers remaining, and only20 to 30 live in the wild. The rest live in zoos. The species is listed as one of the world's ten most endangered animals.
Lianyungang, a port city in Jiangsu Province, has applied for the Monkey King as the mascot of the 2008 Olympic Games in Beijing.