Sina clicks record earnings
( 2003-07-25 12:04) (China Daily)
Sina Corporation, China's biggest Internet portal in terms of revenues, reported a record-high income for the past quarter - boosted by SARS.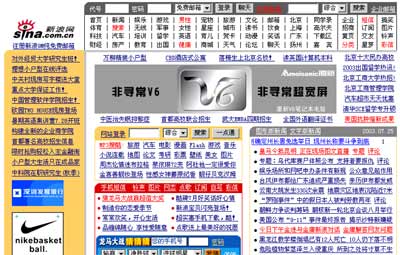 "The June quarter is by far the best Sina has had since it went public three years ago," said Sina President and Chief Executive Officer Wang Yan in a conference call with investors and analysts yesterday.
The company said its revenues went above the previously boosted target of US$24-
US$25 million to US$26 million. The result is an increase of 43 per cent quarter-on-quarter and 203 per cent year-on-year.
It also achieved profits for the third consecutive quarter at US$7.1 million and the diluted earnings per share (EPS) stood at US$0.14, doubling the figures of the first three months of this year.
The biggest online advertising operator in China strengthened its title in the past quarter, with income growing 30 per cent quarter-on-quarter to US$9.5 million.
"It turned out that our fears about the SARS impact did not materialize in the past quarter," said Hurst Lin, Sina's chief operating officer.
He added that the effect of the acquisition of Guangzhou-based mobile service operator MeMeStar boosted the company's short messaging service (SMS) revenues.
"The acquisition of MeMeStar has been the most important single factor in the growth of mobile messages," said Lin.
Sina's income from the SMS sent to mobile phone users reached US$14.18 million, with a 54 per cent sequential growth from April to June. Other revenue pools including e-commerce and software contributed US$2.1 million to Sina.
The company had US$96.9 million cash by June 30, US$7.2 million more than the figure at the end of the first quarter, not including US$97.5 million net proceeds from the issuance of US$100 million zero-interest convertible bonds in early July.
"Sina's results are very exciting, considering its big revenue and the high growth," said Peter Lu, a senior Internet industry analyst in Beijing.
However, Sina's online game business conducted by its joint venture with South Korean game developer NC Soft suffered a heavy blow from the SARS epidemic. A large number of Internet cafes in China were shut down in the second quarter, where most game players access the Internet.
Hurst Lin said online games were probably the only area of Sina's business negatively impacted by SARS and its contribution in the second quarter was minimal.
"We will probably need another one or two quarters before we can see significant revenues from this joint venture," said Lin.
Compared with the rapid growth in the past quarter, Sina expects a stable development in this quarter.
Its revenues are forecast to be US$28.5-US$29.3 million with 10-13 per cent growth over the past quarter and earnings per diluted share are estimated to be US$0.16-US$0.18.
Online advertising revenues will be around US$10.5-US$10.8 million, 11-14 per cent higher over the past quarter, while non-advertising revenues are expected to reach US$18-US$18.5 million, 9-12 per cent higher over the past three months.
"Although the growth rate is much lower than Sina had achieved in the second quarter, it is still be a satisfactory forecast, as its revenue basis is already quite big," said Yin Yijian, an Internet industry analyst with Shanghai-based Shenyin & Wanguo Securities3.