Minister of Commerce: RMB to remain stable
( 2003-07-25 08:36) (China Daily)
The value of the yuan will remain stable at the current stage, Chinese Minister of Commerce Lu Fuyuan said Thursday, though the possibility of adjusting the rate will not be ruled out in the future.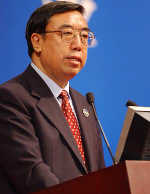 Chinese Minister of Commerce Lu Fuyuan makes a keynote speech at the Asia-Europe High-Level Economic Forum in Dalian, July 22, 2003. [newsphoto.com.cn]

"Every economy will decide its currency value based mainly on its own economic situation, coupled with the global environment," Lu said.

"In terms of China's current situation, we prefer keeping the currency value stable and do not want fluctuation in the value," Lu went on.

Many differences exist with the values of many different currencies such as the US dollar and euro. But they will make their own judgement according to their situation, he added.

Lu made the remarks when answering a question at a press conference at the Fifth ASEM Economic Ministers' Meeting held in Dalian.

Revaluation of the yuan has recently been a hot topic of discussion.

Lu said China's position on the issue has been clearly stated by the People's Bank of China, the country's central bank.

Governor Zhou Xiaochuan reaffirmed China's policy favouring a stable yuan in a speech posted on the central bank's website on July 14.

He said China will work at its own pace to introduce foreign-exchange reforms.

"China should continue to promote reforms to liberalize interest rates, maintain the fundamental stability of the yuan foreign-exchange rate, and continue to perfect the foreign-exchange rate system," he said.

Lu said the current top target for China is to maintain its rapid economic development.

"We noted there do exist some problems, but we believe they can be resolved in the process of economic development," Lu said.