Jessica Lynch due home after media hype on heroism
( 2003-07-22 16:04) (Agencies)
Jessica Lynch, the wounded Army private whose ordeal in Iraq was hyped into a media fiction of US heroism, was set for an emotional homecoming on Tuesday in a rural West Virginia community bristling with flags, yellow ribbons and TV news trucks.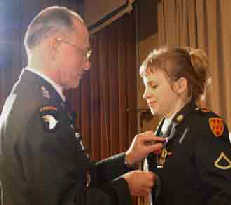 Pfc. Jessica Lynch receives the Purple Heart from Lt Gen James B. Peake, US Army surgeon general, during a ceremony at Walter Reed Army Medical Center, in Washington, July 21, 2003. Lynch also received the Bronze Star and the Prisoner of War Medal.[Reuters]

But when the 20-year-old supply clerk arrives by Blackhawk helicopter to the embrace of family and friends, media critics say the TV cameras will not show the return of an injured soldier so much as a reality-TV drama co-produced by US government propaganda and credulous reporters.

"It no longer matters in America whether something is true or false. The population has been conditioned to accept anything: sentimental stories, lies, atomic bomb threats," said John MacArthur, the publisher of Harper's magazine.

Lynch was in a 507th Maintenance Company convoy on March 23 when her company was ambushed near the city of Nassiriya. Eleven soldiers died and nine were wounded in a 90-minute firefight.

Lynch became a national hero after media reports quoted unnamed US officials as saying she fought fiercely before being captured, firing on Iraqi forces despite sustaining multiple gunshot and stab wounds.

In the end, Army investigators concluded that Lynch was injured when her Humvee crashed into another vehicle in the convoy after it was hit by a rocket-propelled grenade.

Far from a scene of battlefield heroism, the Army said the convoy blundered into the ambush after getting lost and many of the unit's weapons malfunctioned during the battle.

The US military also released video taken during an apparently daring rescue by American special forces who raided the Iraqi hospital where she was being treated.

Iraqi doctors at the hospital said later the US rescuers had faced no resistance and the operation had been over-dramatized.

Lynch herself has been quoted as saying she can remember nothing of the ambush or the rescue.

"The failure here was that the news media got to thinking the government could be trusted to reflect reality," said Carolyn Marvin, professor at the University of Pennsylvania's Annenberg School for Communication.

A spokesman for US Central Command in Florida had no comment when asked about assertions that the heroism tale was government propaganda.

The Washington Post, which was the first to report the heroic version of Lynch's capture, came under sharp criticism from its own ombudsman, Michael Getler, for its handling of the story.

"Why did the information in that first story, which was wrong in its most compelling aspects, remain unchallenged for so long?" Getler asked.

"What were the motivations (and even the identities) of the leakers and sustainers of this myth, and why didn't reporters dig deeper into it more quickly? The story had an odor to it almost from the beginning," he said.

The Lynch story also exposed CBS News to criticism after the network offered Lynch a movie deal while trying to persuade her to give an interview about her experiences.

On Sunday, CBS Chairman and Chief Executive Leslie Moonves acknowledged CBS News probably erred in offering the deal.

In Palestine, a rural neighborhood 225 miles west of Washington, residents were more concerned with protecting Lynch from the reporters who have flooded into the community for her homecoming.

"She's a hometown hero, no doubt about that," said shopkeeper J.T. O'Rock as he hung a flag and a yellow ribbon on his storefront.

"That poor little girl will have to hide just to get any peace and quiet," he added.