Chinese experts: RMB revaluation unnecessary
( 2003-07-21 07:51) (Business Weekly)
China should not bow to pressure from home and abroad to revalue its currency in a move to prop up a sustainable economic growth and prevent speculative hot money from international markets batting the market, warned a group of senior experts and officials.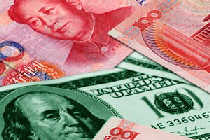 Instead, the central government should take more measures giving greater flexibility to the yuan's convertibility on the current account in a move to balanced its biased international trade and ease the mounting calls for a quick revaluation of the currently strong local currency, said Li Qingyuan, a renowned economic professor with the School of Economics under Peking University.
Speaking at a recent seminar held at the university, Li, also a member of the 10th National People's Congress, said that decentralizing the control under the current account includes measures to deregulate the rigidly controlled foreign exchange system, allowing more citizens to buy exchanges for travelling and the establishment of a national foreign exchange market that could eventually allow both financial enterprises and individuals to trade foreign exchanges in the market.
"Given that China's foreign exchange system is still under rigid controls, the move will make China's increasing reserves more balanced," said Li.
More than that, it could further power China's economic growth if Chinese enterprises are given further room to obtain foreign exchanges more freely.
China's foreign exchange reserves were a record US$346.5 billion by the first half of the year - the world's second largest stockpile after Japan's.
China's years of hefty balance of payments surpluses have put pressure on the central bank as it has to buy hard currency to keep the yuan stable.
But once foreign businesses further extend their presence into China market following the country's WTO (World Trade Organization) entry, China's could see a downturn and even a turnaround in foreign trade, said Cao Heping, vice-dean of the school.
He said the move will shrug off the growing clamour from outside for China to allow its currency, widely seen as under-valued, to strengthen and create a sound environment for China's smooth economic growth.
He was echoed by Long Yongtu, former vice-minister of foreign trade and economic co-operation, who said that China's exports are taking only about 4.3 per cent of the world trade, which means that China's position in the world trade scenario is still relatively modest.
"China's change of currency will not change fundamentally the trade pattern of the world," said Long at a recent seminar held in Sydney.
And among China's export structure, 54 per cent of its total exports were being traded by foreign investors in China, said Long, thanks to China's cheaper and high-quality labour resources, which has made the country part of the world's manufacturing and supply chain.
If China revalues its currency, it might become a little bit more difficult to export, and imports will become more expensive. That will also have a negative impact on the world's manufacturing chain, as China also imports a lot, said Long.
"And that is why I do not believe that the kind of revaluation of China's currency would be necessary at this stage," said Long, adding that the Chinese Government's position is still to maintain a relatively stable currency exchange rate so as to keep its financial and monetary policies consistent and stable.
China is now the fourth largest importer into the United States, while US manufacturers have complained that the yuan peg is pricing them out of potentially lucrative Chinese markets.
According to Li's estimation, much international hot money will speed up its paces of entering China based on a speculation that the yuan will be appreciated very soon.
Under the current system, the yuan is closely pegged in a narrow band between 8.2760-8.2800 per US dollar, but the yuan's forward premiums have hit historic highs in recent weeks, suggesting the market thinks a policy shift is in the offing.
"The Chinese Government needs to send out a clear and strong signal to pour cold water on the rampant speculation about an imminent relaxation on currency to curb such a threat to China's smooth economic growth," said Li.
Agreeing with Chinese scholars, Stephen Roach, chief economist with Morgan Stanley, also refuted that China should be blamed for the world economic downturn and needs to adjust its currency.
"It is not uncommon for weakened economies to point the finger somewhere else. China has now emerged as the leading scapegoat in this dysfunctional world," said Roach, at a recent press conference held here last week.
By pegging its currency to an increasingly weaker US dollar, most believe that China is now getting an unfair competitive assist. If it would only revalue the renminbi, goes the argument, the rest of the world would then have more of a chance.
"China's competitive prowess, I respond, has little to do with currency. China competes mainly on the basis of labour costs, technology, infrastructure, human capital, and its passion and commitment to reform. An opening of its capital account and floating of the renminbi will occur only when China has made more progress on the road to financial sector reform," said Roach.
"Just as China has to learn to live with the rest of the world, the world has to learn to live with China. As I see it, by focusing on a scapegoat such as China, Europe and Japan are both showing signs of how desperate their own economies really are," Roach said.
He was echoed by Xiao Guoliang, another economics professor at Peking University, who said some developed countries still retain a cold-war mentality.
"They are sick, why let China take the pills?" asked Xiao.
However, despite recent overwhelming calls for resistance to yuan revaluation, analysts say the government is exploring ways to make the currency more flexible by widening the band in the long run.
China will step up reforms of its foreign exchange system to cope with changes nearly a decade after a sweeping overhaul of the system, the top foreign exchange official was quoted saying recently.
"Huge changes have taken place in China's foreign exchange picture 10 years after the reform of the foreign exchange system in 1994. It's at a new starting point," Guo Shuqing, director of the State Administration of Foreign Exchange (SAFE), was quoted as saying in a statement on SAFE's website.