Nation calls for calm after border clash
( 2003-07-18 07:07) (Xinhua)
China urged the Democratic People Republic of Korea (DPRK) and the Republic of Korea (ROK) to show restraint after their frontier clash to avoid escalation of the conflict.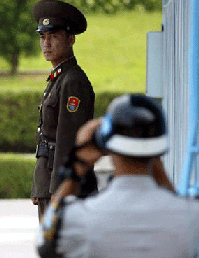 A South Korean guard (front) watches a North Korean border guard at the truce village of Panmunjom in the demilitarized zone dividing the two Korea, Wednesday, July 16, 2003. Soldiers from the two countries briefly exchanged machine gun fire along their border July 16. July 27 marks the 50th anniversary of the signing of the truce. [AP]

In response to reports that the DPRK and the ROK exchanged fire yesterday morning along the divided peninsula's frontier, Chinese foreign ministry spokesman Kong Quan said China hopes the two countries can stay calm and stop the situation from deteriorating further.

Security guards of the ROK and DPRK briefly exchanged fire in the demilitarized zone (DMZ) between the two sides yesterday morning, but there were no casualties on the ROK side, according to the ROK military.

The shootout took place at Yoncheon, in the central part of the DMZ at about 6:10 am yesterday.

DPRK soldiers started the shootout by firing what appeared to be four machine gun rounds at a concrete barrier around a ROK guard post, then the ROK soldiers fired back 17 rifle rounds, the ROK Joint Chiefs of Staff (JCS) said in a news release.

"According to our codes of engagement with the enemy, we broadcast warnings and returned fire,'' said the officer.

It was not immediately known whether there were casualties among DPRK ranks.

The JCS's spokesman Lieutenant Colonel Lee In-young said the DPRK did not respond after the ROK broadcast its warning.

It is the first land border clash since November 27, 2001 when soldiers of both sides exchanged fire. Late last June the navies of the two sides clashed in the Yellow Sea.Four ROK soldiers lost their lives in the incident.