Weather extremes exact toll on nation
( 2003-07-17 07:03) (China Daily)
As floods hit areas of China, causing loss of life and massive financial damage, other regions are being blighted by a heatwave and drought.
Some of the highest temperatures for over half-a-century have been recorded in some parts of the country.
As the flood threat around China's two main rivers -- the Huaihe and Yangtze -- shows no si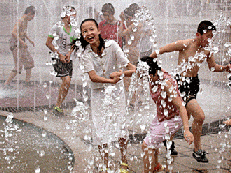 Teenagers find a fun way to escape the scorching heat in Wuhu, East China's Anhui Province. The temperature of the city reached 38 degrees Celsius (100.4 Fahrenheit) on Tuesday, the hottest so far this summer. [China Daily]

gn of letting up, nor do the drought conditions and sweltering temperatures in many areas.

Tens of thousands of hectares of agricultural land have been decimated by floods in the last few weeks. And now thousands are being ruined by drought.

The persistent hot weather in southern China has also led to electricity and water shortages in many provinces.

As people try to keep cool, electricity consumption in both Hunan and Jiangxi provinces has set new records.

Power consumption in Nanchang, capital city of Jiangxi in East China, has soared posing a major challenge to those struggling to maintain supplies.

In just one hour more than 800 calls reporting power failures came in on Tuesday.

Hunan Province also experienced soaring demand for power, but more worrying are looming about water shortages in the face of the continuing drought.

Flood Control and Drought Relief Headquarters of Hunan's Chenzhou said little rainfall had fallen since late June, affecting 30,667 hectares of farmland, 62,300 residents and 92,000 heads of livestock.

Since the start of July, quite a number of provinces in eastern, southern and central China have experienced hot and dry weather.

Some regions can expect some relief as weather forecasters predict rain in the next few days.

The temperature in Hunan Province in Central China has remained above 35 C in recent days, while some areas including Yanling County saw the mercury rise to 40 C in the last two days, said Zhang Hai with the provincial meteorological observatory.

In Jiangxi Province, East China, temperatures rose to an average of 37 to 39 C, while in southern and central areas of the province it exceeded 40 C.

Wang Weiguo, an expert with the State Meteorology Observatory, said that rainfall is expected in northeastern Jiangxi and Hunan and in northern Fujian Province from today to Saturday.

But there is no respite ahead for other heat-hit provinces.

Fujian Province yesterday entered its sixth straight sweltering day with the average temperature over 38 C. The provincial capital of Fuzhou broke a 53-year record on Tuesday when temperatures hit 41.1 C.