Huge blast claims five, injures nine in Xi'an
( 2003-07-15 07:39) (China Daily)
Five local residents were killed and nine people were seriously injured by a fierce explosion yesterday that rocked a supermarket in Xi'an, capital of Northwest China's Shaanxi Province.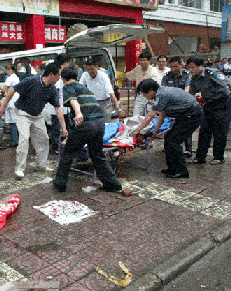 Rescue crews rush to the site of a fierce explosion that killed five people in Xi'an, capital of Northwest China's Shaanxi Province, July 14, 2003. [newsphoto.com.cn]

The blast, believed to be deliberate, occurred about 11:30 am in Tanshijie, the largest grocery supermarket in downtown Xi'an, which is only about 500 metres away from the Shaanxi provincial government site.

Witnesses said the huge explosion resembled an earthquake.

Three died at the site and the injured are receiving treatment in hospital, according to a local police source.

After the incident, police blocked the site and used a special vehicle to sweep the supermarket for any possible explosive devices.

Investigations are continuing. The cause of the tragedy is still unknown but it is not considered an accident, local police said.

Tanshijie is frequented by tourists who want to get a better idea of how local residents live. No foreign tourists were in the market when the explosion occurred.