Commentary: US steps up relations with Taiwan
( 2003-07-15 07:08) (China Daily)
United States' relations with Taiwan have recently got substantially closer despite Washington's promise to adhere to the one-China principle, said an article on People's Daily's on-line edition on July 9.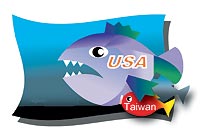 According to the article, co-authored by Nan Zhikun and Dong Pu and titled "Promises and swaying actions: new trends in the relationship between the United States and Taiwan,'' in recent contact between Chinese and US leaders, the United States has often reaffirmed its one-China policy based on the three Sino-US Joint Communiques and the Taiwan Relations Act, and it has restated that it does not support "Taiwan independence.''
At a time when the Taiwan authorities have been trying to encourage separatism and populism throughout the island by pushing for a referendum on the island's entry into the World Health Organization (WHO), the United States explicitly expressed its disagreement and sent warnings to the Taiwan authorities.
There is a prevailing view that the lack of US support for "Taiwan independence'' may rise to become one of Washington's pillar policies on the Taiwan question.
In spite of this, Washington has never weakened its stance in support of Taiwan, Nan and Dong said.
The American Institute in Taiwan stressed that United States policy towards Taiwan had not changed, not only in terms of its policy of not supporting "Taiwan independence'' but also the commitments it had made to the island.
Some pro-Taiwan forces in the United States, who have always clung to unilateralism and a Cold War mentality, have taken a series of moves in co-ordination with the Taiwan authorities' efforts to instigate separatism across the island, which are characterized by a policy of "de-Sinicization'' and the encouragement of "sentiments of hostility'' towards the mainland.
These moves taken by the United States are in violation of the three Sino-US Joint Communiques, said Nan and Dong.
The recent development of US-Taiwan relations displays some obvious characteristics.
The Taiwan authorities provided all the support they could for the US-led war against Iraq to make closer Taiwan's relations with the United States and they expect to harvest a political return.
Taiwan "president'' Chen Shui-bian, catering to the US position on the Iraq issue, even openly expressed his wishes that former Iraqi President Saddam Hussein would leave the Arab country within 48 hours. Chen also expressed Taiwan's willingness to help the United States with its military expenditure on the Iraq War.
To repay Taiwan's profuse assistance, the United States gave the go-ahead for the island's participation on a non-governmental basis in the post-war reconstruction of Iraq.
Some official US bodies and the American Institute in Taiwan also expressed thanks on many occasions for the Taiwan authorities' support and they reaffirmed Washington's obligations under the Taiwan Relations Act and their wish to further promote US-Taiwan relations.
US-Taiwan military co-operation has been continuously proposed with an increasingly obvious flavour of a military alliance, according to
the article.The United States and Taiwan have carried out frequent exchanges of high-ranking officials.
Taiwan's "vice-ministry of national defence'' Kang Ning-Hsiang visited the United States between May 31 and June 10 for meetings with US Deputy Secretary of Defence Paul Wolfowitz and many other Pentagon officials.
It was the second time that Kang had visited the United States in an official capacity since Washington severed its diplomatic ties with the island in 1979.
During his meetings with US officials, Kang urged the United States to give more military advice to the island, establish regular mechanisms for US-Taiwan strategic dialogue, and let the island take part in US military exercises with other US allies.
The Taiwan authorities have also held many high-level meetings with the United States on a series of issues, from bilateral counter-terrorism intelligence co-operation to the island's participation in the US National Missile Defence system.
The United States has also continuously expanded its arms sales to Taiwan to increase Taiwan's military combat capability, said Nan and Dong.In April 2001, US President George W. Bush announced arms sale to Taiwan worth US$20 billion.
By selling weapons to Taiwan on a large scale, the United States mainly aims to increase the island's military strength and gain economic benefits for itself, said Nan and Dong.
Pentagon officials have also warned Taiwan many times of its lack of a self-defence capability and have encouraged the island to build its own missile defence system.
Concerning bilateral military co-operation, the United States and Taiwan plan to establish a maritime emergency mechanism, said the article.
Under agreements reached between the United States and Taiwan, both sides plan to build a naval emergency mechanism for seas around Taiwan so that Washington can help Taipei if Taiwan vessels come into unexpected difficulties.
Some Taiwan supporters in the US Congress have also plotted to strengthen and upgrade US-Taiwan relations by exerting pressure upon the Bush administration, said Nan and Dong.
Since the beginning of this year, these Taiwan supporters in the US Senate and House of Representatives have drafted a total of nine anti-Beijing pro-Taipei laws, involving Taiwan's proposed WHO membership, a US-Taiwan free-trade accord, as well as bilateral defence co-operation.
In early April, shortly before the 24th anniversary of the signing of the Taiwan Relations Act, some Taiwan supporters in the US Congress put forward a resolution urging the US Government to reaffirm its commitment to the security of Taiwan by promising to adhere to the Taiwan Relations Act.
They have also lobbied in support of relevant bills in the US Congress to support Taiwan's entry into the United Nations, the WHO and other world bodies that only admits sovereign countries as members.
For example, on May 29, Bush signed a bill that had been passed by Congress, giving support to Taiwan's pursuit of observer status in the WHO.
High-level Taiwan officials have also frequently visited the United States to co-ordinate Chen Shui-bian's efforts to expand the island's "living space'' said Nan and Dong.
On June 18, Taiwan "foreign minister'' Eugene Chien visited the United States and met US Vice-President Dick Cheney, Secretary of State Donald Rumsfeld and Deputy Secretary of State Paul Wolfowitz.
It is obvious that the visit was for political purposes.
Chen Shui-bian may visit some Central and South American countries in November and there is still a possibility that Washington will arrange a stopover for Chen in the United States, said Nan and Dong.