Abbas urges Israel to ease Arafat isolation
( 2003-07-14 10:28) (Agencies)
Despite the widening rift with President Yasser Arafat, Palestinian Prime Minister Mahmoud Abbas called on Israel on Sunday to let Arafat travel freely as Israeli leader Ariel Sharon lobbied for his further isolation.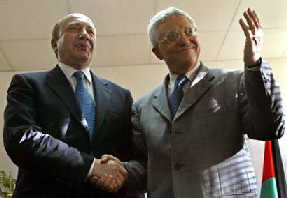 Palestinian Prime Minister Mahmoud Abbas (R) gestures while shaking hands with Russian Foreign Minister Igor Ivanov in the West Bank city of Ramallah July 13, 2003. Abbas called on Israel to let President Yasser Arafat travel freely, as Israeli premier Ariel Sharon lobbied for his further isolation. [Reuters]

Israel and Washington are concerned Arafat is trying to weaken the peace efforts of Abbas, who came under further pressure on Sunday when militants threatened to abandon a truce he negotiated if Palestinian forces went ahead with a campaign to disarm them.

In a joint statement faxed to Reuters in Beirut, the Hamas and Islamic Jihad militant groups said an attempt to "disarm the resistance...will make us think seriously of going back on our initiative of halting military attacks (against Israel)."

Palestinian Information Minister Nabil Amr said talks would be held with militants to ensure the truce, called on June 29, held.

"We will clarify our policy concerning weapons," said Amr, without elaborating. "I do not think there is any justification for abandoning the issue of truce."

Abbas has said he wants to avoid any confrontation with the militants that could lead to civil war, favoring dialogue to keep the peace instead.

Sharon flew to Britain for a three-day visit where he planned to discuss with British Prime Minister Tony Blair the need to isolate Arafat to foil attempts to undermine Abbas, a senior Israeli official said.

Arafat said he had withstood previous Israeli attempts to isolate him and would withstand this one too.

Abbas, a moderate and reformer, became prime minister earlier this year following pressure from the United States, which has sidelined Arafat, accusing him of fomenting violence in a 33-month-old Palestinian uprising. He denies it.

Palestinian officials say Arafat is trying to weaken Abbas, viewing him as too soft on Israel when it comes to implementing reciprocal measures required by a US-backed peace "road map" en route to Palestinian statehood by 2005.

WIDENING RIFT

Abbas, despite the widening rift with Arafat, said he raised Arafat's freedom of movement with Russian Foreign Minister Igor Ivanov during talks on issues related to the peace plan.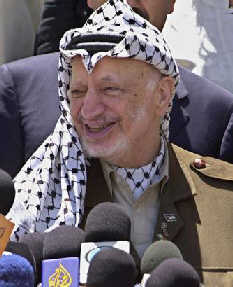 Palestinian leader Yasser Arafat talks to reporters at the entrance of his office after meeting a delegation of the British parliament at his compound in the West Bank town of Ramallah, July 12, 2003. [AP]

"The most important of these issues are the prisoners, the Jewish settlements, the separation wall, closures...and the need for setting free Brother Abu Amr, to allow him to travel wherever he wants, whenever he wants," Abbas said, using Arafat's nomme de guerre.

Ivanov, whose country is a member of the Quartet that drafted the peace plan told reporters that "the restrictions on (Arafat's) movement should be lifted."

The pressure on Abbas was heightened by a decision by Sharon's cabinet to set tough criteria under which only several hundred of more than 6,000 Palestinians in Israeli jails would be freed as a gesture to further the peace plan. Palestinians want all the prisoners to go free.

As part of the peace plan, Israeli troops withdrew from the West Bank city of Bethlehem and parts of the Gaza. Israel has stressed that any further withdrawals depend on Palestinian forces preventing attacks from the areas transferred to them.

Palestinian security officials said they were helping Israel search in the West Bank for an Israeli taxi driver who went missing on Friday. Israel, concerned the man was kidnapped by Palestinian militants, has called on the Palestinians to guarantee his safe return.

Elsewhere in the West Bank, Israel arrested a suspected Irish bombmaker and questioned him on the extent of his contact with Palestinian militants, Israeli security sources said.