Beijing marks Olympic anniversary after SARS
( 2003-07-14 07:12) (China Daily)
Laughter has truly returned to Beijingers' faces.
Stepping out from the SARS epidemic, Beijing citizens, whose life was disrupted by the disease for near two months, were fully celebrating the second anniversary of the city's successful bid to host the 2008 Olympics.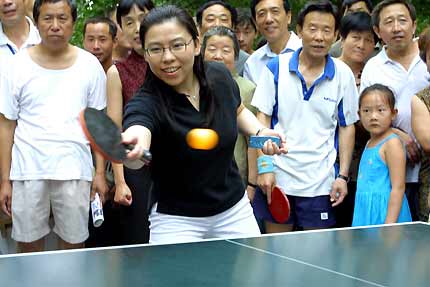 Former Olympic table tennis champion Deng Yaping joins in the celebrations in Beijing.


Two years ago yesterday, the International Olympic Committee (IOC) announced in Moscow that Beijing would host the Games, sending China's capital into raptures.

The revelry Beijing's citizens displayed yesterday in Longtan Park was reminiscent of the wild night when Beijing was awarded the Games.

Some people took the opportunity yesterday to dance, others sang and many played table tennis or Taijiquan (shadow boxing). From the young to the old, all soaked up the atmosphere.

"I have many reasons to be happy because today is a great moment,'' said Guo Changjian, a retired worker who was displaying his excellent skills of kicking shuttlecock -- a Chinese traditional game.

"We have just got rid of SARS, and two years ago we won the right to host the Olympic Games.''

Next to Guo was a group of the city's top supremos and central government officials, who visited the park early in the morning to join the celebrations.

Liu Qi, president of the Organizing Committee for the 2008 Olympic Games, was clearly impressed by the scene.

"You see, Beijing is a city full of passion,'' he said.

"Beijing will always be a city with great dynamics, power and chance.''

Liu said although the city was contained by SARS for a while, the citizens' Olympic passion never dissipated.

"I am glad that so many people got out of their homes today to touch the city and to celebrate the Olympic moment,'' he said.

"The goal of holding such a celebration is to improve people's health and to bring people back together.''

China's sporting stars like Olympic table tennis champion Deng Yaping, who now works for the Olympic organizing committee, and figure skating world champions Shen Xue and Zhao Hongbo also joined in yesterday.

Elsewhere in the city, numerous similar activities like concerts, a road running race and exhibitions were also held throughout the day.