Five killed, scores missing in Sichuan, Hubei mudslides
( 2003-07-14 07:12) (China Daily)
Waves of mud and rock swept through villages in southern China's Sichuan and Hubei provinces at the weekend, killing five and leaving scores missing.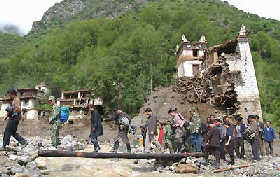 Residents transfer to a safe area after their homes were destroyed by mudslides. [newsphoto.com.cn]

In Southwest China's Sichuan Province on Saturday, a mudslide killed one person and left 50 missing, with 71 more still trapped.

The mud-rock flow struck in the early hours in the remote mountain village of Badi, an area inhabited by members of the Tibet ethnic group.

More than 5,000 people are believed to have been affected. Houses, roads and bridges have been damaged.

The person killed was a middle-aged female tourist from Shanghai and those still missing are 46 residents from three nearby villages, four tourists from Shanghai and one employee with a tourist agency in Chengdu, the capital city of Sichuan Province, an official with the local government of Danba County was quoted by Xinhua News Agency.

The local tourism authority is working against the clock with police to find and identify the missing tourists. They were probably people who were not travelling in package groups.

A disaster relief team of 500 people has gone to the scene but rescue efforts have been hampered by a lack of access to affected areas. Roads have been blocked by mud and rocks.

Rescuers were forced to abandon their vehicles and walk to the areas.

Another difficulty comes from the lack of communication as there is no mobile phone coverage in the village.

Sources with the Sichuan provincial meteorological observatory said moderate rain had been falling in the county since Friday but whether it was the cause of the disaster still needed to be confirmed.

In another report, a severe landslide in Zigui County of Central China's Hubei Province left four people dead and 20 missing early yesterday.