Arguments against harassment law groundless
( 2003-07-11 07:39) (China Daily)
The recent batch of sexual harassment cases plaguing the country has fuelled debate over whether or not it is the right time to legislate on the matter.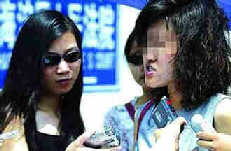 Lei Nan, the female plaintiff in Beijing's first sexual harassment lawsuit, answers a reporter's questions June 30, 2003.

While the voices demanding such a law are loud, some have expressed a worry about the possible negative effects brought about by a special policy.

In a Beijing local newspaper, some psychologists warned recently that such legislation is likely to cause uneasiness in people's social contacts.

Street interviews conducted by the newspaper seemed to support the view. Some male respondents showed similar malaise with the suggested law. Such a law, they claimed, would "make me uncomfortable'' since "I can no longer freely joke around with my female colleagues.''

In other instances, some law experts raised concerns that the legislation may make companies reluctant to recruit female employees, for fear of potential trouble in the workplace.

These worries do make sense, but should not be cited as excuses to block the law that is being petitioned for.

If the legislation is really pushed through, it is only natural that at the beginning people may feel restricted in their social interactions. The fears will be dispelled with better knowledge of the law.

An anti-harassment law is by no means aimed to interfere with the normal contacts between men and women, but rather prevent offensive words or actions, which have resulted in serious harm for the victims in these cases.

The complaint for not being able to speak freely with female colleagues deserves no sympathy. Some of that type of banter, while the males involved may not realize it yet, has already made their female peers feel humiliated and offended. A reminder to mind their manners is exactly the purpose of such a law.

The worry for the possible influence on women's employment is groundless. The country has no lack of rules and regulations to ensure equal employment opportunities for men and women. If necessary, harsher measures can be introduced to tackle problems that may emerge later.

A civilized society will not tolerate an assault on the dignity of its workers.

Sexual harassment has evolved into a problem that society can no longer neglect, with women in most cases becoming victims.

A survey jointly conducted last year by Beijing Youth Daily and the Datasea Company suggested that 71 per cent of the women polled have at one time or another encountered sexual harassment in various forms, and that 93 per cent regarded it necessary to make a law against such injustices.

While special legislation has not been put on the agenda, relevant stipulations against sexual harassment will be added to the Law on the Protection of Women's Rights and Interests, which is under implementation.

Debates on the topic are going on. Different opinions are welcome. At a time when sexual harassment has become such a serious social problem, an exaggeration on the so-called side effects can be misleading.