At least 21 killed in HK bus accident
( 2003-07-10 10:56) (Xinhua)
A double-decker bus collided with a truck and plunged off a bridge early Thursday, killing 21 people and injuring 21 more, according to broadcast reports and the government.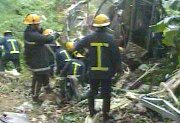 Pictures taken from local TV footage show the crashed bus and rescue workers at the accident spot.[Phoenix TV]

The bus accident occurred on Tuen Mun road, Hong Kong, at 6:30 am (local time) Thursday.

Chief Executive Tung Chee Hwa of the Hong Kong Special Administrative Region and other government officials have arrived at the spot to arrange the rescue work.

Tung said he is "very astonished and sad about the accident." He also expressed condolence to the dead.

The chief executive urged all relevant departments to try their best in "providing all the aid."

Initial reports said that more than 30 people were injured in the accident.

The injured have been rushed to Yan Chai Hospital, Princess Margaret Hospital, Tuen Mun Hospital and Caritas Medical Center for medical treatment.

Civil Services Department and other government officials also went to the spot to make arrangements for the rescue work which is still underway.

Witnesses said a bus crashed with a cargo truck and fell out of the Ting Kau bridge near Tuen Mun Village in Hong Kong's New Territories.

Officials can not confirm how many people were in the bus.

The bus fell to the Ting Kau village under the bridge. There are no immediate reports of the casualties of the villagers.