Flood taming begins with sluice gates open
( 2003-07-04 06:48) (China Daily)
The sluice gates at the Wangjiaba section of the Huaihe River, one of China's major rivers, were opened early Thurday morning to divert flood water caused by heavy rainfall, threatening thousands of people in the area.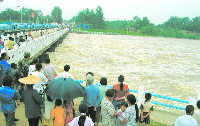 Villagers in the Mengwa Flood Diversion Area in Funan, East China's Anhui Province, watch the floodwather roaring into 12,000 hectares of farmland. [newsphoto.com.cn]

It was the first time in 12 years that the sluice gates at Wangjiaba, located in Funan County of Anhui Province in East China, have been opened to divert the river's flood water, according to the State Flood Control and Drought Relief Headquarters.

The water level at Wangjiaba reached 29.34 metres at 11 pm on Wednesday, surpassing the safety line and posing a serious threat to both the area on the upper reaches and local residents.

A total of 150,000 people live in the Mengwa Flood Diversion Area in Funan and its neighbouring county of Yinshang, among whom nearly 15,000 were directly affected by the diversion and had been evacuated by Wednesday afternoon. The flood water being diverted will submerge up to 12,000 hectares of farmland.

Premier Wen Jiabao issued instructions on Wednesday on the flood-control work, stressing that all efforts should be made to ensure the safety of people and minimize property losses.

Wen required flood control authorities and local governments to go all out to make the flood diversion proceeding smoothly.

Vice-Premier Hui Liangyu, also head of the State Flood Control and Drought Relief Headquarters, presided over an emergency meeting on Wednesday evening to discuss the Huaihe River's flood control work.

Hui urged the local authorities in Anhui to make every effort to ensure successful flood diversion, closely follow the flood situation and weather changes, monitor the river's embankments and prepare for any emergency.

Since June 21, the Huaihe River valley has been hit by continuous rainstorms and even torrential rains, leading to a rapid rise of water levels on the upper and middle reaches of the river.

The Central Meteorological Observatory forecast that heavy rainfall will continue in different parts of China in the next few days and may cause more damage with floods across the country, which have claimed at least 154 lives this year.

Starting from yesterday, the observatory exchanged weather forecasting information with local meteorological officials through live TV broadcasts to improve flood control work.

By the end of this week, provinces like Sichuan, Shaanxi, Hubei, Henan, Shandong, Jiangsu and Anhui as well as Chongqing Municipality will see an average rainfall of 100 to 150 millimetres.

So far, eight provinces and regions have suffered huge losses caused by flooding.

Up to Monday, floods in various provinces and regions had affected 44.75 million people, according to a statement from the Ministry of Civil Affairs.

The latest flood-related accident happened in the Liangshan Yi Autonomous Prefecture in Southwest China's Sichuan Province, which killed four people early on Wednesday morning.

The rainstorms caused mud and rock flows and landslides in Dechang, Meigu and Jinyang counties.

The storms seriously injured five people, while 11 were made homeless after 49 houses were wrecked, and another 24 collapsed.

Local transport and telecommunication facilities were also damaged and further investigation and rescue work is still underway.