Superstar opens super bridge
( 2003-06-30 09:41) (China Daily)
Led by top Chinese basketball star Yao Ming, 1,000 people ran across the Lupu Bridge on Saturday, marking the official opening of the world's longest steel-arched bridge.
With a main span of 550 metres over the Huangpu River, the 2.5 billion yuan (US$302 million), 3,900-metre Lupu Bridge, beats the previous record holder - the New River Gorge Bridge in West Virginia, United States, with a main span of 518 metres.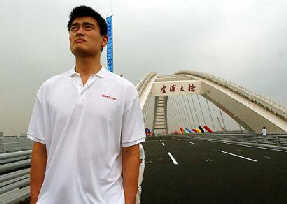 NBA star Yao Ming of Houston Rockets is seen on the opening ceremony of 3,900-metre Lupu Bridge in Shanghai, Saturday, June 28. [Xinhua]

"As a local citizen and a player who grew up in this city, I feel very proud of my hometown for having such a wonderful construction project," Yao said.

He said the bridge is a miracle, a point echoed by Hans-Juergen Seeger, general manager of BASF (China) Co Ltd, and his wife Sigrid Seeger, both participants in the "Dynamic Shanghai, Heading to the Future" run across the bridge.

"I cannot name all the other five bridges stretching over the Huangpu River, but to me, the new arched shape is now the most beautiful," said the husband.

Municipal government spokeswoman Jiao Yang said that holding such a run across the bridge demonstrates the endeavour of this vibrant city and also lifts public morale.

Completed in just two years and nine months, the "rainbow" over the river was not only a miracle of speed, but is also of a high international standard, according to the civil engineering administration.

The bridge is also the world's first ever all-welded structure which consumed 35,000 tons of steel and over 700 tons of paint. The 582-kilometre-long welding line among the steel components is too narrow to allow an ant to walk along it.

The bridge is able to endure a 12-force typhoon and an earthquake measuring seven on the Richter scale.

The road surface of the 750-metre-long main bridge is 7.5 centimetres thick with eight different layers.

Visitors can climb from the road surface of the main bridge up the arch to the top which is 110 metres above the river to enjoy the view of both the Pudong and Puxi sides.

The site of the 2010 World Expo is near the new bridge.

The project investor has 25-year rights to operate the bridge and will get a fixed return of 9.7 per cent annually from the government.

The bridge's builders will now go to Chongqing in western China to construct a similar bridge with a main span of 420 metres.