Ministry: Encephalitis B epidemic in Guangdong under control
( 2003-06-30 09:40) (Xinhua)
China's Ministry of Health reported Sunday that, although a number of cases of encephalitis B have been detected in south China's Guangdong Province since the end of April, the epidemic situation there is under control.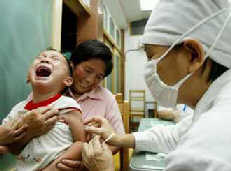 A boy cries as he gets an inoculation for encephalitis B at a children's hospital in Guangzhou, capital of China's southern province of Guangdong, June 23, 2003. [Reuters]

The ministry also said that, at present, the incidence of encephalitis B remains relatively low in China, however, vigilance should be maintained given the fact that China is prone to scattered small-scale outbreaks each year.

The ministry said that, as of 10:00 a.m. last Friday, a total of 296 encephalitis B cases, 25 deaths and 48 suspect encephalitis B cases had been reported in Guangdong Province.

As a seasonal epidemic disease, encephalitis B usually starts to appear in south China around June, gradually moving north over the following month. July, August and September are regarded as the peak season.

Since the mid-1970s when the encephalitis B vaccine was developed and produced in China, incidence of the disease has dropped sharply, and the possibility of a nation-wide encephalitis B outbreak has been basically ruled out, according to the ministry.

The encephalitis B situation in Guangdong Province in the past two months aroused serious concern by the central authorities, which urged that timely and effective prevention and treatment work be undertaken in Guangdong.

At present, preventive measures, which include administering the encephalitis B vaccine to local residents and eliminating mosquitoes, are in full swing in the province, and local hospitals are working all out to cure encephalitis B sufferers. Thanks to these strenuous efforts, the province's epidemic situation is said to be well under control, the Ministry of Health said.

Experts say that China should expect the peak season encephalitis B outbreak during the period from July to September. However, as long as prevention and treatment measures are implemented properly, the incidence of the disease can be maintained or even reduced.

In a bid to achieve the above-mentioned goals, the Ministry of Health recently issued an urgent notice urging local governments to strengthen encephalitis B vaccine inoculation work and intensify supervision of the disease outbreak situation.

The ministry stressed that local leaders should adopt a serious attitude with regard to encephalitis B prevention and treatment work. Any attempt to distort or delay the reporting of accurate information will be severely punished.