Forbes business summit to showcase Shanghai and China
( 2003-06-30 06:52) (China Daily)
The Forbes Global CEO Conference, a high-profile business forum initiated by the US publishing and media company Forbes, is to take place in Shanghai in September as scheduled, according to organizers.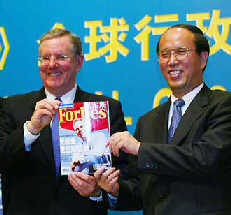 Shanghai Vice-Mayor Zhou Yupeng (right) and Steve Forbes, president and CEO of the US publishing and media company Forbes, display the new Chinese version of Forbes magazine in Shanghai on June 29, 2003. [newsphoto.com.cn]

As an indication that growth in China is returning to previous levels after the SARS (severe acute respiratory syndrome) crisis, the upcoming event is expected to help create a wealth of business opportunities for both domestic and overseas companies and entrepreneurs.

As well as the attendance of high-level government officials plus eminent economists and scholars, executives of multinationals and domestic business giants like BMW, UPS, Samsung, Dow Corning, Acer, HSBC, Haier and Shimao will also address the conference.

Together with other respected figures in business circles, the delegates are expected to embark on a number of topics facing the global and Chinese economies, ranging from banks and the capital markets in China to future technology trends worldwide.

"The purpose of the event is not just to exchange information,'' said Steve Forbes, president and CEO of Forbes. "The brainstorming is to be an incubator for new business opportunities and new jobs for Shanghai, China and the world.''

"The conference will dramatically demonstrate to the global business community that Shanghai and China are indeed ready to do business again (after the SARS crisis).''

Shanghai and China will achieve growth rates that will make them the envy of the world in coming years, added the Forbes magazine founder whose publication is gaining increasing popularity in China. The magazine's annual selection of the top 100 wealthiest Chinese features a growing number of domestic private entrepreneurs.

"It will be an important occasion as we need to draw on expertise from global business players, open wider to attract more foreign investment and strengthen the ties between local businesses and their overseas counterparts,'' said Vice-Mayor Zhou Yupeng.

Zhou revealed that Shanghai will organize a team of 30 top figures in local State-owned enterprises (SOEs) as well as private businesses to attend the event.

The arrangement also signals Shanghai's resolution to support the local private sector's development. It is the third time the event has been located in Asia -- an area described by Forbes as where future growth opportunities are. In 2001, the conference was held in Singapore, and Hong Kong was the host for the 2002 event.