U.S. cuts rate to 45-year low to spark recovery
( 2003-06-26 07:01) (Agencies)



The Federal Reserve of the United States, still striving to coax the struggling economy to stronger growth, cut a key interest rate Wednesday to its lowest level since Dwight Eisenhower was the U.S. president.

While Fed Chairman Alan Greenspan and his colleagues repeated their concerns that economic weakness could trigger a destabilizing fall in prices, they also noted hopeful signs that recovery from the 2001 recession may finally be picking up steam.

For that reason, many analysts said the Fed's 13th cut in its federal funds rate could well be the last in a credit-easing campaign that began in January 2001.

At the same time, analysts said that by continuing to mention the remote threat that the country could face a period of falling prices - deflation - the Fed was signaling that it would keep interest rates down.

"The clear message is that rates are going to stay low for some time," said David Wyss, chief economist at Standard & Poor's in New York.

Many economists believe the combination of the lowest interest rates since the late 1950s and President Bush's new round of income tax cuts will finally be enough to spur stronger economic growth starting in the second half of this year but not before the unemployment rate, currently at a nine-year high of 6.1 percent, edges up a bit more.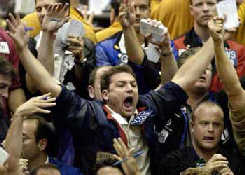 Vincent D'agostino shouts from the S&P 500 Futures trading pit shortly after Fed Chairman Alan Greenspan's announcement on interest rates Wednesday, June 25, 2003, at the Chicago Mercantile Exchange. [AP Photo]
The rate cut, which the Fed approved by an 11-1 vote at the end of a two-day meeting, pushed the funds rate, the interest that banks charge each other on overnight loans, from 1.25 percent to 1 percent, the lowest level since it averaged 0.68 percent in July 1958.
The nation's banks were expected to respond with a similar quarter-point cut in their prime rate, moving the benchmark for millions of business and consumer loans down from 4.25 percent to 4 percent. That would be the lowest since May 1959.
Wall Street investors, who had hoped for a bigger, half-point rate reduction by the Fed, pushed stock prices lower after the central bank's afternoon announcement. The Dow Jones industrial average finished the day down 98.32 points at 9,011.53.
The Fed action capped a remarkable seven-week period in which Greenspan and other officials were able to trigger a big drop in long-term interest rates simply by a series of well-chosen comments. Those started with a statement May 6 that raised concerns about an "unwelcome substantial fall in inflation," a phrase that was repeated Wednesday.
In congressional appearances and speeches, Greenspan and other Fed officials talked openly about the threats posed by deflation, something that has gripped Japan for the past few years but has not been seen in the United States since the Great Depression of the 1930s.
Those comments were seen as a signal not only that the Fed was prepared to cut its already low rates further but, more importantly, planned to leave rates low for the foreseeable future.
That sentiment triggered a huge rally in the bond market with increased demand for bonds pushing down yields to record lows in many cases. Mortgage rates fell to levels last seen in the 1950s. The 30-year mortgage, which has been setting new records for several weeks, now stands at 5.21 percent.
Many analysts believe the Fed will not move the funds rate down below 0.75 percent or 0.5 percent for fear of destabilizing operations in money market mutual funds.
In its statement Wednesday, the Fed struck a more positive tone than it had in May, saying that there were a number of signs that the economy seemed to be firming, including gains in consumer spending, growth in payrolls and "markedly improved financial conditions," a reference to big gains in stock prices and declines in interest rates.
"The Fed is telling us that the probability of an economic rebound is improving," said Sung Won Sohn, chief economist at Wells Fargo in Minneapolis.
The Fed's next meeting is not until Aug. 12, and Sohn and other analysts said there should be enough signs of growth by that time that the central bank would leave rates unchanged for the rest of the year.
But if the rebound fails to materialize, analysts said, the central bank will cut again, at least by another quarter point.
The Fed began cutting rates in January 2001 as it tried to combat an approaching recession that began in March of that year. It kept cutting rates in an effort to insulate the economy from a series of shocks ranging from terrorist attacks to corporate accounting scandals and then early this year consumer and business uncertainty about what a war in Iraq might do.
The lone dissenting vote for the rate cut was cast by Robert Parry, president of the San Francisco Fed, who argued for a bigger half-point move.