The governments of China and India on Monday signed a memorandum of understanding (MOU) for cooperation in the arena of ocean science and technology.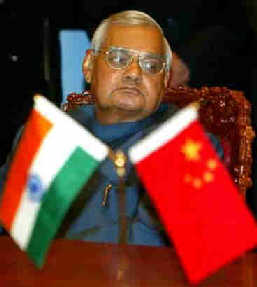 Indian Prime Minister Atal Behari Vajpayee (L) attends a signing ceremony behind the national flags of China and India in Beijing June 23, 2003. [Reuters]

The signing of the MOU would push forward Sino-Indian technological cooperation in the fields of integrated coastal zone management, sea-bed resources exploration, polar science, ocean energy, gas hydrate exploration, marine resource assessment, seaweed production and processing, and satellite oceanography, announced China's State Ocean Administration (CSOA), China's marine affairs administrator.

The two governments "considered that the cooperation in the field of ocean science and technology can promote well-being and prosperity and strengthen friendly relations between the two countries, and wished to establish closer cooperation and foster friendly relationships between scientific and technological institutions and personnel", said the MOU cover, highlighting the historic significance of the two major nations' first ever cooperation on marine affairs.

China and India started to establish contact in marine cooperation in 2000, and the leaders of the two marine administrations visited each other that year, an official with the international department of the CSOA told Xinhua.

The official said China and India had also agreed in the MOU to establish a Joint Committee on Ocean Cooperation, which would consist of five members from each country.

The committee would be responsible for "planning and coordinating marine cooperation, supervising such cooperation" and "promoting new cooperation that both countries are interested in", he said.

The MOU would enter into force when it was signed Monday and should remain in force for a period of five years.