Anti-whalers win key battle at world whaling conference
( 2003-06-17 11:13) (Agencies)
Anti-whaling countries won a heated battle against traditional whaling nations spearheaded by Japan and Iceland to drive through a landmark decision aimed at beefing up protection of whales.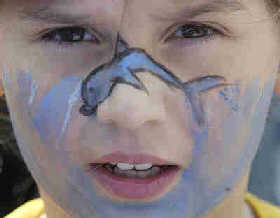 A young girl with a whale painting on her face is seen outside a Berlin conference center during a protest against the 55th International Whaling Commission in Berlin on June 16, 2003. [Reuters]

The slim 25-20 vote in favour of the so-called 'Berlin Initiative' was met with applause by supporters after hours of wrangling at the opening day here of the International Whaling Commission (news - web sites)'s (IWC) annual meeting.

It followed a harshly-worded debate with delegates accusing each other of "hijacking" the conservation ideal and employing "disgraceful" and "pompous" tactics to win votes.

The scheme, presented by Australia, Britain, France, Germany, New Zealand and the United States and backed by more than 40 non-governmental groups, is effectively an attempt to forestall any return to commercial whaling.

It envisages the creation by the IWC of a dedicated conservation committee to protect the whale population from over-fishing, pollution, climate change, sea noise, shipping and accidental catch.

It would also set up a trust fund for conservation-oriented research.

Monday's vote thus moves the 55-year-old IWC a significant step away from its founding ethos of whaling regulation to one of whale protection.

By doing so, it effectively reinforces a global moratorium on whaling that has been in place since 1986.

Japan and its key allies Iceland and Norway immediately threatened not to cooperate with the committee and render it unworkable, a tactic dismissed by critics as "sour grapes."

The whaling nations claimed the proposal was little more than a sham aimed at ending centuries of whaling tradition for good.

Whaling critics, who saw the initiative as a crunch point of the meeting, were predictably delighted.

"It consolidates the conservation work of the IWC, moving it into the 21st century," Sue Lieberman of the World Wide Fund for Nature told AFP.

"We're excited. Whaling has been a threat and will continue to be a threat but what this decision says is that it is not the only threat."

"What was once a whalers' club has become a force for conservation," said Chris Tuite of the International Fund for Animal Welfare.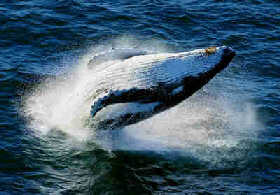 A Humpback whale heading north breaches just outside Sydney Heads June 16, 2003. June and July are the peak months for whale watching off the New South Wales coast, when there is a huge migration of humpback whales heading for warmer waters.[Reuters]
Iceland's commissioner Stefan Asmundsson earlier condemned the proposal as "essentially hijacking the term conservation and making it something else."
Norway's Odd Gunnar Skagestad called the idea "pompous."
But the harshest words came from Antigua, whose commissioner Daven Joseph said it was "disgraceful" and "a deceptive act of bad faith" that showed "low tolerance and gross disrespect" for smaller nations.
"Are we supposed to be subservient once again?" he thundered.
Whaling nations claim the moratorium should be scrapped and replaced by a system of quotas and monitoring that would vary depending on climate changes, whale stocks and seasons.
Norway is the only IWC member openly pursuing commercial whaling thanks to its get-out clause in the moratorium, and Japan allows hundreds of whales to be killed every year for what it says is scientific research and what critics claim is a sham for profit-taking hunts.
Iceland now wants to follow Japan's lead, and has said it hopes to resume commercial whaling sometime after 2006.
They say that with more than a million minke and two million sperm whales in the world oceans, stocks would be able to sustain limited hunting.
However, more than a decade of talks to adopt a quota scheme has failed to produce an agreement, and Japan and Iceland have threatened to join Norway in commercial hunting if they remain bogged down.
They have also filed a series of proposals here allowing greater scope for whaling, either by coastal communities traditionally dependent on hunting or for scientific research.