Chavez rejects calls to step down
( 2002-10-14 15:12 ) (7 )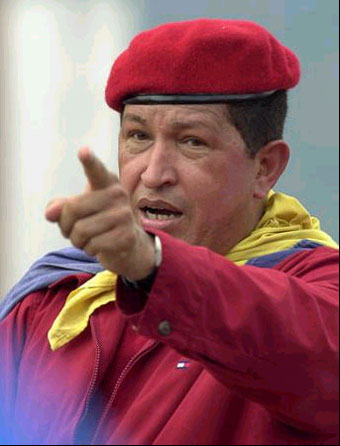 Venezuelan President Hugo Chavez greets his supporters during a rally in Caracas, Venezuela, Sunday, Oct 13, 2002. A defiant Chavez rejected demands that he resign or call early elections as he rallied thousands celebrating his dramatic return to power after a coup six months ago.[AP]




Venezuelan President Hugo Chavez dismissed demands that he step down or call early elections, telling thousands of supporters that the Constitution he pushed through in 1999 won't let him.

"I'd call early elections just to beat them once more if the Constitution permitted it," Chavez said before a massive march staged by his supporters in downtown Caracas on Sunday.

"(But) that's impossible, nobody can call early elections," he said.

Opposition groups, including the nation's largest trade union and business chamber, demanded Chavez call early elections by Wednesday or face a general strike on Oct. 21.

They say Chavez is responsible for the economic turmoil in Venezuela, where 80 percent of the population lives in poverty, and must leave before his term expires in 2007.

Venezuela's Constitution, pushed through in 1999 by a popularly elected assembly packed with Chavez' allies, doesn't stipulate how to hold early elections.

However, it does allow for a national referendum to revoke the president's mandate halfway through his term, which will be in August 2003. Opposition leaders say the country can't wait that long.

Chavez was elected in 1998 and was re-elected two years later. He said attempts to remove him would be handily defeated "on the political and military stage."

Chavez already survived one coup attempt in April, when dissident officers angered by the slayings of 19 people during an opposition march booted him from office.

The coup fell apart when thousands of angry citizens converged on the presidential palace in support of Chavez, who was restored by loyalist troops.

Chavez boasted the latest march drew 2 million people ¡ª in a nation whose population is 24 million. The crowd's size was impossible to verify, but the claim appeared directed to organizers of Thursday's opposition march, who said 1 million people showed up.

People from across the country marched a four-mile route in Caracas. Chavez showed up wearing a red beret like the one he wore as a former army paratrooper who staged a failed 1992 coup attempt. A green parrot wearing a tiny red beret of its own perched on his shoulder.

"Chavez is here to stay. The opposition is wrong if they think they'll sack him again," said Robinson Canizales, a 46-year-old teacher.

Chavez, who claims his government foiled a coup plot earlier this month, downplayed the opposition ultimatum. "How scared I am!" he deadpanned.

Chanting "Chavez Makes Them Crazy!" and wearing the red, yellow and blue colors of Venezuela's flag, the crowds streamed into downtown Caracas led by Chavez's Cabinet ministers and key political allies.

Music from Venezuela's plains region, where Chavez was born and raised, blared from souped-up sound systems atop pickup trucks packed with cheering supporters. "No to the coup plotters!" read many banners.

After three years under Chavez, Venezuela's economy is in a tailspin, the armed forces are dangerously divided and international efforts to broker negotiations with the large but disorganized opposition have stalled.

The Organization of American States and the United Nations want the two sides to sign a "declaration of principles" committing them to dialogue. The government said it will sign this week, but Chavez will be touring Europe all week and won't return until Saturday.