Panchen Lama holds head-touching ritual, urges Buddhists to be patriotic
( 2002-03-20 11:06 ) (9 )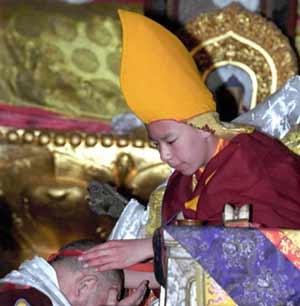 Erdeni Losang Qamba Lhunzhub Qoigyijabu, the 11th Panchen Lama, blesses a monk as he presided over a Buddhist activity in Beijing's Yonghe Lamasery yesterday. The lamasery is the biggest and best-preserved temple of Tibetan Buddhism outside the Tibetan-inhabited areas. [Xinhua]




The 11th Panchen Lama and spiritual leader in Tibet, Erdeni Losang Qamba Lhunzhub Qoigyijabu, held a head-touching ritual in Beijing Tuesday to bless Buddhists and urge them to love their motherland and uphold Buddhism.

The 11th Panchen Lama, aged 13, carried out a "head-touching ritual", aimed at blessing other Buddhists, on Tuesday in Beijing's Yonghe Lamasery, the largest Tibetan Buddhist Temple in Beijing,

Panchen Lama chanted sutra before the 26-meter-high Maitreya and Tsong-Khapa, the founder of the Yellow Sect of Tibetan Buddhism, and consecrated Hada, pieces of white silk symbolizing luck, and cassocks to the two Buddhas.

He blessed over 150 Buddhists and living Buddhas from Tibetan-inhabited regions across China, who are studying at the Chinese Institute of Buddhist Studies in Beijing.

During the ritual, Panchen Lama urged all the Buddhists to safeguard the interests of their motherland and countrymen and observe all canons.

The head-touching ritual in Tibetan Buddhism is done by a Living Buddha to bless other Buddhists.

The 11th Panchen Lama was confirmed and approved by the Chinese central government as the reincarnation of the 10th Panchen Lama in 1995, after drawing lots from a golden urn.

He held his first head-touching ritual at his palace Deqen Pozhang in 1999.