Maradona gives soccer class to Cuba's Castro
( 2001-10-30 15:26 ) (7 )

CUBA: Castro and Maradona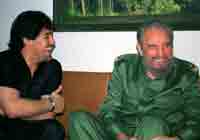 CUBA'S CASTRO: In talk with Maradona




Argentine soccer legend Diego Maradona met Cuban President Fidel Castro at Havana's Revolution Palace on Monday -- and gave the sports-loving revolutionary a lesson in ball-skills and tactics.

"Today I learnt a lot of things, I learnt how to dribble with the ball!" a laughing Castro said after he received Maradona, and his manager Guillermo Coppola, for nearly two hours on the eve of the Argentine's 41st birthday.

"I am proud to be a friend of Fidel, a friend of the greatest man in living history," Maradona, based at a Havana healthy spa for drug treatment since early 2000, told Reuters afterwards.

Maradona, who hero-worships Castro, showed Cuba's "Maximum Leader" a tattoo of him that he recently had made on his left shin, and another longer-standing tattoo of Argentine revolutionary Ernesto "Che" Guevara on his right shoulder.

Guevara fought with Castro in the 1959 Castro Revolution.

The pair, meeting for the third time since Maradona began living in Cuba, embraced warmly and laughed and joked together before disappearing for a lengthy, closed-door chat.

Maradona -- whose drug-plagued soccer career has been arguably as controversial in its way as Castro's political career -- later called the meeting a "gift from God" and "the most beautiful present".

"I'm not communist, I'm `Fidelista' to my death," he added.

During their conversation, Maradona asked Castro for permission to buy a permanent house on the Caribbean island -- whose socialist system largely prevents foreign property ownership -- and talked of politics and sport.

WORLD CRISIS

"We talked about the country, we talked about the puppets across the water, we talked about the world crisis," Maradona added, referring derogatorily to the United States, where he is barred from entering due to his past drug problems.

"He asked me about (soccer) tactics, what offside was, the penalty, how I can win a penalty...he wanted to go into everything in great detail."

Maradona, currently trying to get in shape for a November 10 testimonial game in Buenos Aires, personally invited Castro to attend.

Not surprisingly, however, Castro -- who tends to only travel for weighty political summits and is anyway on bad terms with the current Argentine government -- jokingly declined.

"Comandante, are you going to my game?" Maradona asked. "Only if you bring the match up here!" Castro replied.

The Cuban leader checked up on Maradona's health and his recovery from a head-on collision outside Havana last year.

"You've lost a lot of weight," Castro said, adding after the meeting: "I've had a good time."

POLITICAL CHAT

Buoyed by Castro's affirmation "Let no one say you don't know about politics", Maradona said the pair had also discussed the current economic and social crisis in Argentina.

"He (Castro) defends his flag, there (in Argentina), we give it away to the United States," Maradona said.

He said he had told Castro that those in Argentina who backed a vote against Cuba at the UN Human Rights Commission earlier this year were "shit-eaters".

Recommending that Argentine leaders should study Castro's words, Maradona said his speech after the September 11 attacks on the United States, in which he condemned terrorism but warned against an over-warlike response, was "better than the Bible".

Maradona came to Cuba in January 2000, at Castro's invitation, after nearly dying from a grave heart condition attributed to a drug problem and his overweight state.

On the island he has discovered a more peaceful lifestyle, slimmed down and improved his health dramatically.