Gates: Microsoft has a duty to build aggressively with Windows XP
( 2001-10-25 15:21 ) (7 )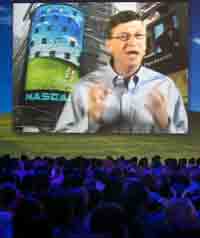 Gates says to audiences on launching of Windows XP




It's the week of Microsoft's biggest software release in six years and chairman Bill Gates is shrugging off criticism that his company's juggernaut operating system has squashed the competition.

Love it or fear it, Gates says, Microsoft's Windows is ``the most important tool that's ever been created.''

``It's a tool for communications, for creativity -- it's the basis for the entire software industry,'' Gates said in an interview from his unassuming office overlooking the company's Redmond headquarters.

On Thursday, Microsoft will release Windows XP, the new version of the desktop operating system that runs the vast majority of personal computers.

To some, including the US Justice Department, Windows' massive reach creates a quandary. As Microsoft keeps improving and expanding its dominant product, consumers may get a better deal -- but competitors face the threat of being blown into obscurity.

And as Microsoft's software and Internet services become@pervasive, critics say so does the potential for breaches in information security.

To Gates, also Microsoft's chief software architect, it's simply about saving computer users time and money.

``It's a value for consumers,'' Gates said. ``Why are there headlights in cars? Why don't they make you go and buy those things separately?''

It's also about money: Desktop operating systems accounted for more than US$8 billion of the US$25.3 billion in revenue Microsoft reported for fiscal year 2001.

Friends and foes agree that Windows XP is the souped-up sedan of the desktop operating system world.

It offers new features for listening to music, playing videos, or editing and organizing digital photographs. A new system called Windows Messenger lets users communicate instantly with others using text, voice and video.

``If you look at the value of the stuff that's in Windows XP, compared to the stand-alone packages you'd have to buy for the equivalent, that's many hundreds of dollars,'' Gates said. ``And all you have to do is understand that to understand why consumers like it and why a competitor would say, 'Hey, it's too good a deal, you know, why are they offering people such a good deal?'''

Gates' no-holds-barred vision has built the company into a multi-billion-dollar enterprise and made him the richest man in the world.

He believes his company's products have driven the technology revolution, part of why Microsoft has refused to curtail its aggressive efforts to expand Windows despite legal threats from the federal government and attorneys general of 18 states and the District of Columbia, who sued Microsoft for violating antitrust laws.

``We work extremely hard and we put out a new version of Windows every couple years as best we can, and no legal thing has prevented us from doing that, and I don't expect that it will,'' said Gates, who turns 46 on Sunday.

Although the company has been found guilty of breaking antitrust laws and is currently negotiating a penalty in federal court, Microsoft has refused to put Windows XP on the bargaining table.

In fact, Microsoft has only expanded its reach. A new feature in Windows XP called Passport seeks to become the standard online authentication system, storing Web site passwords, credit card numbers and other personal information required to complete Internet transactions.

Critics say that by requiring Passport sign-up in order to use such features as Windows Messenger, Microsoft is coercing people into giving the company personal information. And they worry about the security risk if Microsoft holds personal information on millions of Internet users.

Gates dismisses those concerns, though Microsoft has suffered serious security breaches in which hackers gained access to the company's internal network -- and may have even obtained valuable source code.

Gates calls Passport a savior, not a threat, to Internet commerce.

``We're trying to make the Internet more effective and allow not just large companies to get to critical mass with these user names and passwords, but let any company who wants to participate in Passport just do it,'' he said.

Meanwhile, Microsoft forges ahead with the next version of Windows, working with a dlrs 5 billion annual research and development budget. The company won't say when to expect the next upgrade.