Zhao Wei sometimes tires of fame
( 2001-07-12 09:11 ) (7 )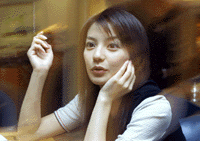 Chinese actress Zhao Wei gestures during an interview with Reuters in Hong Kong. Zhao leapt to stardom at just 21 when she was plucked from Beijing's prestigious Film Academy to star as a bogus princess in a television series set in the Qing dynasty. [Reuters]

Zhao Wei




It's hard these days for Chinese actress Zhao Wei to go anywhere in China without turning heads, not least her hometown in the southwest province of Anhui.

"I am afraid the entire city would show up at my doorstep. Relatives who used to beat me when I was a naughty child would ask to take pictures with me. It's baffling and very tiring," said Zhao, 25, during a recent interview with Reuters.

Zhao leapt to stardom at just 21 when she was plucked from the prestigious Beijing Film Academy to star as a bogus princess in a television series set in the Qing Dynasty.

For nights on end, millions of viewers sat glued to their television sets to watch mischievous "Little Swallow" - Zhao's nickname in "The Pearl Princess" - and play pranks on the villains.

The actress hasn't looked back since.

A handful of television series, a string of movies and several record albums later, little of her initial appeal seems to have waned.

Zhao divides her time between Chinese mainland, Taiwan and Hong Kong, where she was mobbed by fans recently while promoting a new film, "Shaolin Soccer", in which she appears far from royal.

"Have you seen it? I looked disgusting in it," declared the chirpy actress.

In the film, which combines martial arts with football, Zhao appears as a timid and vile-looking chef who falls for her co-star comedian Stephen Chiau, dubbed Hong Kong's answer to rubber-faced Hollywood star Jim Carrey.

Zhao described the deadpan actor, who also directed the film, as the most demanding film maker she had come across.

"I felt bad at times because I felt I wasn't delivering what he wanted and that was frustrating."

The actress, who had to undergo heavy make-up to look "bad", shunned the thought of a sequel.

"Never again, once was enough."

But by accepting the role, the cute Mandarin pop star clearly had a point to prove.

"It doesn't matter what role I play or how I have to look. I like roles that are unique... it has to be special."

Zhao sidestepped a question on how she compared herself with Hollywood darling Zhang Ziyi, who shot to fame after starring in martial arts epic "Crouching Tiger, Hidden Dragon".

"It's extremely lucky to be in an Ang Lee movie. Anyone given the chance would be world famous.

"He is of course one of them but the list can go on and on," she said when asked which directors she would like to worth with.

Zhao said she was involved in two film projects currently, one in the kung-fu genre and the other by a Hong Kong director, but she gave few other details.

Zhao said her friends were far from jealous of her success.

"Those who used to be in my class get better job offers. They all found work because they were in Zhao Wei's class so they are very thankful."

But the star admitted she sometimes grew tired of the price of fame.

During a two-month stint in New York earlier this year, she revelled in anonymity. The actress is not well known outside of Asia.

"When one becomes too well-known, narcissism takes charge. All I am is an ordinary girl and I get that feeling back when I am abroad," she said.

"There, I became less self-conscious. I was able to walk around with my head up."