Shakespeare with curly hair?
( 2001-05-23 12:00 ) (7 )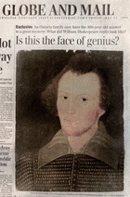 Shakespeare's portrait




Not "to be or not to be" but "is it or isn't it": That is the question scholars are asking about a portrait whose Canadian owner says it is a bona fide 400-year-old image of William Shakespeare.

Since the image of a youthful-looking Shakespeare was splashed across a Canadian newspaper, believers and skeptics alike have been buzzing about the smiling man in the painting.

It could be the only existing portrait made of William Shakespeare in his lifetime, but historians are divided on whether the painting, been stashed in a closet or hidden under a bed for generations, is really the Bard of Avon.

"I'm more convinced by this one than I am by any others, but I would still withhold final claim," said Morgan Holmes of Toronto's Ryerson University.

The painting on an oak panel is supposedly that of a 39-year-old Shakespeare made in 1603 by an unknown actor and painter called John Sanders, an ancestor of the current owner.

The painting, reprinted on the cover of Canada's Globe and Mail newspaper, shows a young-looking man with crinkly reddish brown hair, green eyes and the beginnings of a red beard staring out with a glimmer of a smile.

"I was caught by the eyes. There does seem to be something about the eyes that seem to resemble the eyes in the two other known representations," Holmes said.

In the top right-hand corner is the date 1603 and, on the back, a linen label reading: "Shakspere, Born April 23 1564, Died April 23 1616, Aged 52, This Likeness taken 1603, Age at that time 39ys," according to the newspaper.

By that age, Shakespeare had written the plays Taming of the Shrew, A Midsummer Night's Dream and Romeo and Juliet.

Marie-Claude Corbeil of the Canadian Conservation Institute in Ottawa, which conducted authenticity tests on the painting over a six-year period, told Reuters there was no doubt the wood panel and paint date from the right period.

NO ANACHRONISM -- BUT NO PROOF

"All the materials are consistent with the painting being made in that time in England," Corbeil said. "There's no anachronism whatsoever."

But there is still no proof that the portrait, while it may be old, is that of the world's most famous playwright.

There are only two likenesses of him believed to be authentic: a bust at his tomb commissioned after his death in 1616 and a 1623 engraving by Martin Droeshout, believed to be taken from a lost drawing.

Naysayers point to the curly hair -- Shakespeare has straight hair in the two recognized images -- and say the subject looks too young to be 39 years old. And one Canadian university professor said the phrase "likeness taken" was not in use until the second half of the 18th century, suggesting the label could have been added much later.

Corbeil said tests done on the label, which can barely be read by the naked eye, found it dated from somewhere between 1475 and 1640. No testing was done on the ink.

"We basically think the label could have been added any time between 1603 to 1640, that's the evidence we have from the radiocarbon dating," she said.

If the Canadian painting is real, the glamorous, lively man is starkly unlike the famous image of an older, balding Shakespeare with a serious expression and a starched ruff.

"It's a quite persuasive painting. It's a quite different Shakespeare from what we're used to: It's a wiry redhead as opposed to a tall, dignified man and there's nothing wrong with that," said Stephen Orgel, Reynolds Professor in Humanities at Stanford University in Palo Alto, California.

'WRONG GUY'

"The problem for me, just physiologically, is that the two undoubted portraits are of a man with straight hair and this guy has crinkly red hair. So my impulse would be to say 'wrong guy,'" Orgel said.

According to the newspaper, the painting and the story of its origins, was handed down through the Sanders family, which moved from Britain and settled in Montreal.

The unidentified owner, a retired Ontario engineer who has apparently spent his savings trying to authenticate the painting he inherited from his mother, told the newspaper the painter, John Sanders, was a bit player who worked with Shakespeare in the King's Men acting troupe.

Theater historians are now expected to leap into the fray in a bid to track down a John Saunders who can be connected with Shakespeare.

The owner, who has identified himself only to the Globe and Mail, has said he wants to auction off the portrait and he can expect auction houses to line up for a chance to view the painting. Sotheby's is already eager to contact him.

"These possibilities are always immensely interesting. Of course we're a long way from proof. I haven't seen the object but the reproduction looks certainly worth pursuing," said Hugh Hildesley, executive vice president of Sotheby's New York, who was in Toronto for a Sotheby's auction.

Whether or not the painting is real, scholars said it will likely always attract attention because it introduces a new image of the Bard -- one that is closer to actor Joseph Fiennes in the film "Shakespeare in Love" than the more famous image of the playwright as a somber, older man.

"It's a wonderfully romantic portrait. He looks amused and amusing and intelligent, just the way we'd rather like Shakespeare to look," said Professor Anne Lancashire of the University of Toronto. "There's always the hope and, at the same time, there's always the skepticism.

"You've got something from the right period but is it or isn't it? It's possible someone may be able to make this connection with a lot of hard work and luck. It's also possible we'll always be left to wonder."