New baby on the way for media magnate Murdoch, 70
( 2001-05-11 14:20 ) (7 )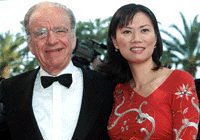 Global media tycoon Rupert Murdoch and his wife Wendi Deng, seen arriving at a film premier in Cannes in this May 9, 2001 file photograph, are expecting a first addtion to their growing empire - a baby, said Murdoch's spokeswoman on May 11, 2001. It will be the fifth child for Murdoch, 70, and the first for 33-year-old Deng. [Reuters]

Global media tycoon Rupert Murdoch and his wife Wendi Deng, seen arriving at a film premier in Cannes in this May 9, 2001 file photograph, are expecting a first addtion to their growing empire - a baby, said Murdoch's spokeswoman on May 11, 2001. It will be the fifth child for Murdoch, 70, and the first for 33-year-old Deng. [Reuters]




Global media mogul Rupert Murdoch, 70, and his wife Wendi Deng, 33, are expecting their first child -- an arrival likely to fuel speculation over which of his children will eventually control his sprawling empire.

The child will be the fifth for Murdoch, the executive chairman of media giant News Corp who overcame low-grade prostate cancer last year, and the first for Deng.

"All I can tell you is that it's true," a spokeswoman for Murdoch's $36 billion media empire, News Corp Ltd, told Reuters on Friday.

Murdoch controls fifth biggest media company in the world.

The spokeswoman declined to say when the baby was due or give other details, but Murdoch's mother Dame Elisabeth Murdoch, 91, reportedly said Deng was in the very early stages of pregnancy.

"We're very happy for Rupert and Wendi," Geoff Handbury, who is married to Murdoch's sister Helen, said, according to Friday's edition of Australia's The Age daily newspaper.

"It's going to be very much loved by a big family," he said.

However, Dame Elisabeth says, in the most diplomatic possible way, that none of this is anyone's business.

"It's family news, and it's for you to find out," she told Reuters from her home in rural Victoria.

"But thank you for calling."

FIFTH CHILD FOR MURDOCH

Murdoch has three children with his second wife Anna, to whom he was married for 32 years. They are Elisabeth, 32, Lachlan, 29 and James, 28.

Oldest child Prudence is Murdoch's daughter with his first wife, the late Patricia Booker. She lives in Britain with her husband and three children.

Murdoch told CNN in September 1999 that his new marriage to Deng had "re-energised" him and that he had succession plans.

"If I went under a bus today, I'm sure Peter would be appointed chief executive officer," Murdoch said then of News Corp president Peter Chernin.

"He is my trusted right hand and my friend," he said, adding Chernin would also be mentor to his sons.

Lachlan, married to supermodel Sara O'Hare, is News Corp's deputy chief operating officer and chairman of the company's News Ltd Australian arm.

Deng married Murdoch aboard his luxurious yacht "Morning Glory" in New York on June 25, 1999, about two weeks after Murdoch's divorce from the former Anna Torv became final.

Deng is Murdoch's third wife and the daughter of a machinery factory official in Guangzhou in southern China.

The pair met when she was an intern at Star TV, the Asian satellite television arm of his conglomerate. They attended the opening of the Cannes Film Festival this week without any word of their happy news.