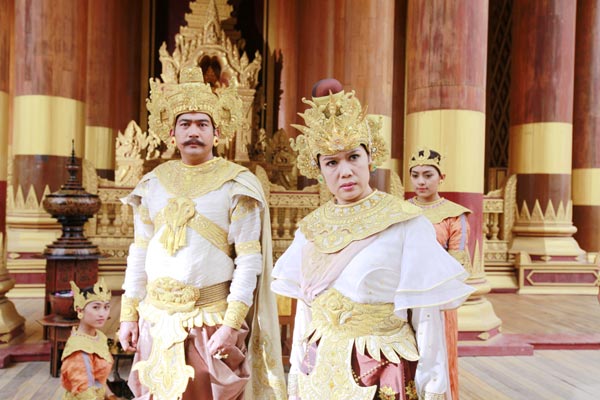 Musical Legend is a TV drama co-produced by China and Myanmar. Provided to China Daily
On March 26, a two-week Chinese cultural event "Experience China" started in Nay Pyi Taw and the country's largest city, Yangon. Co-organized by China's State Council Information Office and Myanmar's ministries of publicity, culture and education, the event featured journalist exchanges, book presentations and screenings of movies and TV dramas.
In addition to Marriage Battle, the event will also see the premiere of Musical Legend, the first TV drama co-produced by the two countries and the first Chinese production to be filmed in Myanmar.
While leading a delegation to visit Yunnan TV in December 2010, Thein Htun Aung, director of Myanmar Motion Picture Enterprise, suggested the two sides make a film based on a screenplay called Lanma Sandy, which was recommended by U Kyaw Hsan, Myanmar's former minister for information and culture.
Finally adapted into a teleplay, the script, originally created by Myanmar writer U Chit Oo Nyo based on a historical story, tells of an arduous journey a music troupe made in the year 802 from Pyu, an ancient Burmese kingdom, to dedicate their music in Chang'an, capital of China's Tang Dynasty (AD 618-907).
Mostly shot in Yunnan, the teleplay has five episodes shot in Bagan, a Myanmarese city known for its pagodas. For the first time in China, the production has seen the participation of Myanmarese expertise, including renowned director Lin Aung as the show's deputy director.
After concluding its successful run on China Central Television at the end of last year, the show started airing on Myanmar's SKYNET Channel on April 8.
The television series will also be widely distributed in other Southeast Asian countries.
"I hope Chinese people will know Myanmar and its people better. And the young people in Myanmar can get a more comprehensive understanding of China. To do this, culture is undoubtedly the best platform," says Zhao Shuqing, deputy director of Yunnan TV.