New head of elite Saudi university talks growth and innovation
King Abdullah University of Science and Technology in Saudi Arabia has long been a renowned university for Chinese students, designed for the "elites of the elites." Since its founding, KAUST has served as a bridge between China and Saudi Arabia for both academic research and social and cultural values. Tony F. Chan, president of the university, recently sat down with China Daily to share his view on the development of the school and its ties with China.
Could you tell us what kind of university KAUST is? What is the school's attraction to Chinese students? How many Chinese students and staff members are there at KAUST?
KAUST is a cultural and scientific melting pot. It has people from over 100 nationalities living and working together, including over 450 Chinese nationals working and studying as part of a unique research community.
KAUST is a graduate university offering masters and doctoral degrees to students from around the globe - only in that sense is it elite. The university is known for scientific and technological education, as well as high-impact, cutting-edge research that addresses global challenges in four key areas: food, water, energy and the environment.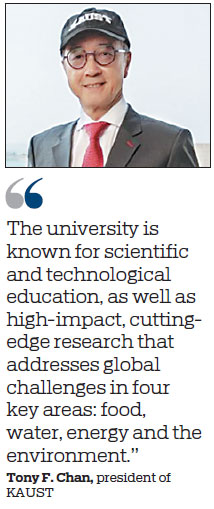 So, for Chinese students interested in achieving excellence and who want to be involved in solving big challenges, this is the place for you.
At KAUST, all classroom and research activity is in English, so you must have strong language skills to succeed. You should also have international experience from your undergraduate studies that proves you can thrive in a diverse, multicultural community.
You were appointed KAUST's new president in September 2018. What do you consider as your priorities for this year's work plan?
I felt ideally suited to help KAUST grow in its second decade. Of course, I was familiar with KAUST having served as a board member for six years prior to joining as president. Over the years I was drawn to its grand vision of reviving the Islamic House of Wisdom - inviting the best minds from around the world to pursue knowledge and make contributions to humankind while contributing to Saudi society.
I'm also drawn by the chance to make a sizeable impact. It's an incredibly exciting time to be in Saudi Arabia and as an institution we are looking to grow in all facets - faculty, students, startups and institutional partners. This growth is designed to capture the moment, both in the Kingdom and in the region. KAUST is an ideal fit with initiatives such as the Belt and Road Initiative.
How is KAUST cooperating with Chinese universities? What are KAUST's next steps in promoting the Belt and Road Initiative?
At KAUST, some of our top collaboration agreements are with Chinese institutions.
This includes the Chinese Academy of Sciences, Tsinghua University, Shanghai Jiao Tong University, the Ministry of Education of the PRC, China University of Petroleum-Beijing, and the Institute of Physics, CAS. Additionally, KAUST is developing a relationship with the SUSTech in Shenzhen, as well as a visiting student program with UESTC. KAUST also has a number of Chinese funding sponsors, including the National Natural Science Foundation of China and the 973 Program.
So there is no doubt that through our partnerships with many Chinese institutions and universities, we are contributing to deeper ties between Saudi Arabia and China.
With regard to the Belt and Road Initiative, I think initiatives that further the national interests of both countries are of enormous significance, and fit particularly well with the spirit of our institution. The Middle East is a key hub in the BRI, and the Arab world has historically had close ties with China. Saudi Arabia has a large influence in the Arab world, so this deepening relationship is of vital importance.
What are the challenges ahead for KAUST and higher education? What innovations or new initiatives are needed to address these challenges?
KAUST fits well into Saudi Arabia's national transformation program, Vision 2030.
As a university of science and technology, KAUST and other universities of its kind perform better than traditional universities in subject related to innovation and economic development.
At their core, USTs serve as hubs for entrepreneurship and industry collaboration, educating the next generation of scientists, leaders and innovators.
I think USTs must constantly prove their value and demonstrate their return for society. We are, for example, going to place a big emphasis on both artificial intelligence and health innovation research in the years to come. This area is going to have huge implications for the way we all live and work, and adapting our focus as a university to this new emphasis is part of the challenge.
Institutional leaders must be agile and adaptive as they navigate a challenging climate of local vs. global agendas, academic ideals vs. political/societal realities and short-term vs. long-term vantage points.
Therefore, we are very excited about helping increase engagement between these two great countries as part of this truly global Belt and Road Initiative.
Lastly, I'll say that Saudi Arabia is undergoing a huge transformation. The major infrastructure projects the country is currently developing are of a similar style to those undertaken as part of China's economic miracle. Neom is one such example, but the list of gigaprojects also includes airports, nuclear energy, high-speed rail projects and more.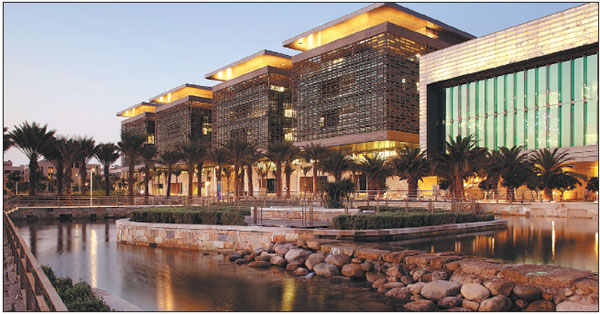 King Abdullah University of Science and Technology in Saudi Arabia is renowned for its academic research and social and cultural values.
(China Daily 04/26/2019 page29)
Today's Top News
Editor's picks
Most Viewed