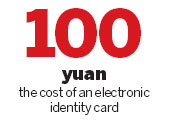 Antique enthusiasts may soon be able to stop worrying about ending up with counterfeit items, as the planned introduction of an electronic identity card to help them to distinguish between genuine pieces and fakes.
Without damaging the antiques, the electronic ID card - a chip that can barely be seen with the naked eye - will be inserted in the pieces' seals or stamps.
"A scan of the chip will show whether the piece is genuine or a fake, in addition to all its information, such as its name, author, and its transaction records," said Sun Tingting, a business assistant at Liulichangchina.com, a website that trades antique art.