HSBC Holdings Plc, the largest European bank by market value, announced plans on Wednesday to sell its 15.57 percent stake in China's Ping An Insurance (Group) Co to a Thai conglomerate.
The sale will mark the end of a decade-long investment for the lender, which said it is taking the step to raise capital and boost its returns.
The announcement follows the bank's decision last year to dispose of non-strategic assets, thus giving itself more leeway to explore the banking business on the Chinese mainland, analysts said.
Charoen Pokphand Group Co Ltd, owned by the Thai tycoon Dhanin Chearavanont, will pay $9.39 billion, or about HK$59 ($7.60) a share, for HSBC's stake in China's second-biggest insurer by market value, HSBC said in a statement.
That was a 2.3 percent premium over Ping An's closing price on Tuesday in Hong Kong trading.
The announcement said the transaction will be conducted in two stages. The first will see 20.8 percent of HSBC's share in Ping An sold by Friday, and the second will see the remainder sold during the nine business days following the China Insurance Regulatory Commission's approval of the deal.
The purchase will be financed in part with cash and in part with assistance from the China Development Bank Corp's Hong Kong branch.
In China, Charoen Pokphand Group has invested in agriculture, retail, automotive, IT and a variety of other sectors. The company's website says it operates the Lotus chain of supermarkets in Shanghai.
Stressing the importance of the Chinese market, Stuart Gulliver, HSBC chief executive officer, said the deal comes as a further step toward the company's goal of delivering long-term value to its shareholders.
Linus Yip Sheung-chi, a Hong Kong-based analyst with First Shanghai Securities Ltd, said he thinks HSBC is right to be planning to dispose of a non-strategic asset.
"Technically, insurance is not part of a bank's core business," he said.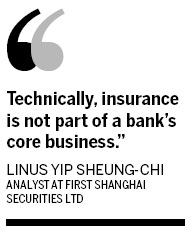 Amid market turbulence, the London-based bank is seeking to trim its costs and boost its returns by selling assets and concentrating on economies in which the bank has the greatest market share, Yip said.
To that end, its priority was set on commercial banking and global banking and markets in 2011, according to an official document from HSBC's website.
Counting the current deal, the group has concluded 37 sales or closures under the guidance of Gulliver, freeing up tens of billions of dollars in risk-weighted assets. In March, for instance, HSBC decided to sell some of its general insurance units in Asia and Latin America.
Dominic Chan, a Hong Kong-based analyst at BNP Paribas SA, said HSBC probably thought it would be difficult to exercise control over Ping An Insurance over the long term.
Analysts believe the transfer may help clear the path for a long-term commitment with the Bank of Communications Ltd, in which HSBC holds a 19 percent share.
"China remains a key market for the group and we will strengthen our focus on growing our own operations and building on our long-term strategic banking partnership with the Bank of Communications," Gulliver said in the statement.
HSBC has also acquired an 8 percent share of Bank of Shanghai Co.
"The sale will give HSBC more strength to concentrate its business on the mainland," Yip said. "If it wants to open more branches and even tap into retail markets in the future, a wise choice is to cooperate with local banks."
He forecast HSBC will continue working with both of those banks. But other sources in the industry say Bank of Shanghai will be the next company on its sales list.
"Technically speaking, insurance can be counted as a central business," said a source in the banking industry who spoke on condition of anonymity.
"So Ping An's characteristics are not a reason for HSBC to exclude it from the portfolio."
He noted that Ping An has a banking unit that is likely to expand in the future. For that reason, HSBC's shares in the other two banking companies could have led to a conflict of interest if it decided to keep its investment in the insurer.
"HSBC wanted to avoid distractions by developing only one set of relationships in the commercial banking industry," the banking source said. "Apparently, HSBC believes Bank of Communications to be its most promising prospect."
Shares in Ping An closed in Hong Kong trading up by 4.9 percent at HK$60.50, widening their gain this year to 15 percent. The value of HSBC shares increased by 1.65 percent to HK$80.
hewei@chinadaily.com.cn
(China Daily 12/06/2012 page16)